Internet Gambling
by J. Phillip Vogel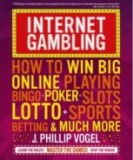 Subtitled 'How to Win Big Online Playing Bingo, Poker, Slots, Lotto, Sports Betting, and Much More ,' Internet Gambling consists of twenty-three engaging and descriptive chapters where Vogel demystifies and dissects all topics related to Internet gambling, including the history of online gambling, how to get started, choosing the best sites, understanding the various kinds of software available, the technical difficulties one might expect to encounter, managing money, and more.
Playtech Posts Profits:
Gaming software developer Playtech recently posted their 2007 first quarter revenues and it seems that the poker business is good for business. The company posted $19.8 million

in profits so far this year, which is a great jump in comparison to the $17.4 million in the same fiscal period of last year. The revenue dropped 5% from $20.8 million 2006 first quarter result, but revenue from poker rooms is up, keeping the Playtech profits floating upward. The United Kingdom based Playtech is expecting a higher performance for next year, looking for a profit of $88.7 million.
Iowa Casino Expands Poker Offerings

The newly expanded Diamond Jo Casino has more to offer patrons to this Northwood, Iowa gambling spot, with more than 350 machines and around 22,000 square feet of gaming floor space. The total expansion package, which came about a year after the casino opened for business, cost around $20 million - a necessary expense, according to Marketing Director Scott Smith, who pointed out that the players weren't comfortable in the amount of space available before the expansion. Crowded weekends and standing room only conditions prompted the expansion, which Smith says makes the casino "much more roomy."
World Poker Association Headed for WSOP
This year at the
World Series of Poker
the WPA will have a major presence, according to a recent announcement by the World Poker Association. The WPA is an organization dedicated to professionalism in poker, founded by a pro poker player. At the WSOP the WPA will have a booth just steps away from the entry to the poker room at the Rio, where board members may be on hand. The WPA recently elected Marcel Luske, "The Flying Dutchman", as a board member, as well as Wendeen Eolis and Chris Bigler.
WSOP Champoin Joe Hachem Gambles on Film Career
He's perfected his poker face, but card playing champion Joe Hachem is taking another gamble with his latest career move as a big-screen star. The former world poker champion will make his film debut in the Australian flick Prey. While he's unlikely to earn the $10 million prize pool he reaped in the 2005 World Series Poker title, Hachem is laying his talent on the table after signing for a small, but pivotal role in the film. The poker ace will star alongside Rogue Traders babe Natalie Bassingthwaighte and Jesse Johnson, son of Miami Vice star Don Johnson.
Playtech
15 Themistocle Dervis Street
Nicosia
Cyprus
Phone: +972 361 399 90
Fax: +972 361 399 89
Email:
info@playtech.com
Website: www.playtech.com
Playtech is one of the leading gambling software manufacturers in the online gambling world and is the software of choice for many well-known and popular online casinos. Founded in 1999, Playtech has over 250 personnel distributed globally, around eighty percent of whom are engaged in research and development of current and future gaming technologies.
Diamond Jo Worth Casino
777 Diamond Jo Lane
Northwood, IA 50459
Phone: (641) 323-7777
Toll Free Phone: (877) 323-5566
Website: www.diamondjo.com/worth/DiamondWorthWS.html

Diamond Jo Worth Casino is open 7 days a week, adn the casino has 24 hour gaming on Fridays and Saturdays. The property has 15 table games and over 500 slot machines.