NORTHWOOD, Iowa – As reported by the Globe Gazette: "A $28 million expansion of the Diamond Jo Casino in Worth County is well under way and should add 100 new jobs, officials said Tuesday.
"'Plans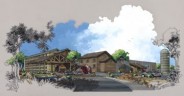 Diamond Jo Worth Casino will be expanding.
are to have the hotel open in November and the renovation of the casino should be done by the end of the first quarter in 2007, in March or April,' said Carrie Tedore, public relations manager.
"More than 300 people are now employed at the casino.
"Manager Jesus Aviles said major draws will include the new poker room and the 190-seat buffet that can be accessed directly from the outside, so that 'non-casino' families may dine there without going through the casino, Tedore said.
"The hotel, owned by Country Inn and Suites, is now fully framed and roofed.
"Casino expansion work has begun to the east, where an addition will include 30,000 square feet of space that will provide room for 300 additional slot machines, 11 more casino table games and a larger entertainment area.
". . . The expansion was fueled by the 335,000 customers who came in the first three months of operation, representing twice the number expected. Of those, 70 percent were from Minnesota. The Iowa Racing and Gaming Commission approved the expansion in July.. . . "
Diamond Jo Worth Casino
777 Diamond Jo Lane
Northwood, IA 50459
Phone: (641) 323-7777
Toll Free Phone: (877) 323-5566
Website: www.diamondjo.com/worth/DiamondWorthWS.html

Diamond Jo Worth Casino is open 7 days a week, adn the casino has 24 hour gaming on Fridays and Saturdays. The property has 15 table games and over 500 slot machines.