Poker Night
by John Vorhaus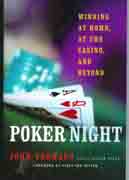 Noted poker player/writer Vorhaus covers a little bit and a lot of everything here from the absolute basics to advanced points of strategies. The information is for those who want to excel at the most popular poker game in the world--the home game, where the pots aren't cut and the winning gets personal
Poker Stars

Poker Stars has reopened for most of the world, but not yet in the United States. It is endorsed by professionals like
Daniel Negreanu
and Chris Moneymaker. The site offers Texas Hold'em, Omaha, Omaha 8/b, 7 Card Stud, 7 Card Stud 8/b, Crazy Pineapple, Crazy Pineapple 8/b, Triple Draw, Royal Hold'em. Table limits range from penny games up to $300-600. The competition leans to the more challenging end of the spectrum.

Poker Stars
Endorsed by professionals like Chris Moneymaker and Daniel Negreanu, Poker Stars is the most popular poker room in the world. The site also provide poker strategy and continues to support US players.
Vorza's Brain
John Vorhaus is a man of many talents. He's a comic, a writer, a poker pro, and now the host of UltimateBet's Poker Challenge. His website, Vorza's Brain is as eclectic as he is. He's written five books on poker and is a frequent contributor to poker magazines. Check out his creative site.
LOS ANGELES - (PRESS RELEASE) -- The UltimateBet.net Poker Challenge returns to Fox Sports Net for a second and third season. After a very successful first season last summer, UltimateBet.net is once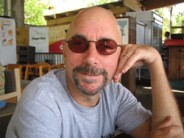 John Vorhaus is the host of the UltimateBet Poker Challenge again giving players the opportunity to win a seat at a televised final table and play for a $250,000 prize pool without first setting foot in a casino. Anyone can qualify for the UltimateBet Poker Challenge by simply downloading the free UlitmateBet.net software and playing in one of the scheduled free tournaments.
All 12 episodes of this unique television series will be co-hosted by UltimateBet's John Vorhaus, expert analyst and author of several poker books including: "Killer Poker: Strategy and Tactics for Winning Poker Play," "Killer Poker Online: Crushing the Internet Game," and "The Killer Poker Hold'em Handbook." Vorhaus' vast knowledge of poker combined with his wit and dry sense of humor promises entertaining commentary on the games, throughout the season. World class poker professionals, Annie Duke, winner of the 2004 WSOP Tournament of Champions, and Phil Hellmuth, winner of NBC's 2005 National Heads-up Tournament, will be making guest appearances. In addition to sharing some of the best kept poker tips, Duke and Hellmuth will offer expert feedback and commentary on some of the play at the tables.
There are over 84 chances each week for online players to test their poker skills and win a seat on the televised UltimateBet.net Poker Challenge. For five consecutive weeks in each season, six lucky winners from card rooms powered by UltimateBet will be flown to Los Angeles from their hometown, where they will receive deluxe hotel accommodations, and a seat at that week's final table, televised by Fox Sports Net. In Los Angeles, they will compete for $10,000 where the winner will not only walk away with the cash, but also a guaranteed seat at the $200,000 final championship event. The 200K final table will seat the 5 weekly 10K winners; joined by a lucky "wildcard" player who will have won their seat directly from winning an online tournament on UltimateBet.net. Season two airs every Sunday beginning January 15th with the finale airing on February 19th. Season three runs every Sunday starting on February 26th with the finale airing on April 2nd.
To find out how to qualify go to www.ultimatebet.net.