LOS ANGELES, California - (PRESS RELEASE) -- Hollywood's hordes of poker passionate actors and actresses will be on hand for the WPT Invitational, February 22-24, the invitation-only event on the World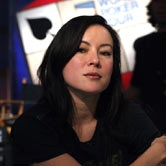 Jennifer Tilly Poker Tour which pits celebrities against 200 of the world's top professional poker players. Players in previous years have included James Woods, Ben Affleck, Tobey Maguire, Ray Romano, Don Cheadle, Ron Livingston, Mimi Rogers, Stephen Collins, Ed Asner, Jennifer Tilly, Jon Favreau, Sharon Lawrence, David Sutcliff, Lou Diamond Phillips, Norm McDonald, Dean Cain, Camryn Manheim, Jennifer Tilly, Sara Rue, Richard Karn, Willie Garson, Krista Allen and Lolita Davidovich.
Extended to three days this year, 50 film, television and sports celebrities are invited and will compete against poker players who have already entered the World Poker Tour Championship in April. The $200,000 prize pool is compliments of Commerce Casino. The celebrities will also be playing for a $25,000 seat in the WPT World Championship and $10,000 for a charity selected by the celebrity to finish highest in the tournament.
-VIEWING WPT EVENTS
If you'd like to watch either of the WPT Final Tables (Feb. 21 and Feb. 24 respectively), it's first come, first serve in the viewing stands. The World Poker Tour reserves a limited number of seats for spectators during the filming of the shows. You'll want to be at Commerce Casino by 4:30 p.m. on the 21st for the LA Poker Classic or 2 p.m. on the 24th for the WPT Invitational in order to secure a seat.
The L.A. Poker Classic and WPT Invitational will air on The Travel Channel during the WPT's much-anticipated Season IV, which begins airing March 1. The World Poker Tour inspired the worldwide poker phenomenon, with its revolutionary WPT hole card cams and thrilling brand of winner-take-all poker. It is now seen in 129 countries and territories around the world.
"Commerce Casino really has something for everyone at this year's LA Poker Classic," said Casino Manager Tim Gustin. "You'll see the world's top pros in action; you can try to beat them yourself to win the million prize; you can come play with your wife or girlfriend on Valentine's Day; you can test your skills at an array of different kinds of poker, and you can watch celebrities and poker superstars go 'All-In.' It's a great way to kick off the 2006 poker calendar in Los Angeles."
-COMMERCE CASINO
Commerce Casino is the largest poker casino in the world. There are more than 200 poker tables featuring just about every form of poker: Texas Hold 'Em, 7-Card Stud, Omaha, Lowball, Pot Limit, Mexican Poker, Pineapple, Draw, Low-Ball and many others. Also offered are Pan and California games.
Commerce Casino is also recognized for its innovative "Bring Your Home Game to Commerce" program which enables poker fans to invite their friends and family for a casual home game, bachelor party or birthday celebration with a professional dealer in the casino setting.
Commerce Casino is located at 6131 East Telegraph Rd., Commerce, CA 90040, just off the Santa Ana (5) Freeway at the Washington Blvd. exit. The phone is (323) 721-2100. The website is www.commercecasino.com.