COMMERCE, California -- (PRESS RELEASE) -- Commerce Casino is poker-central in January and February. Whether you are a veteran poker player, a newcomer wanting to test your wings or a woman who'd like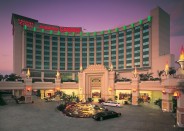 Commerce Casino is the site of the LA Poker Classic to experience poker in the company of other women players-Commerce Casino, the world's largest poker room, is the place to be as the L.A. Poker Classic unfolds, January 19-24.
Three new elements have been added to the mix this year. Commerce Casino will guarantee $2 million to the first place winner of the L.A. Poker Classic Championship event and $1 million to the runner-up. The month's tourneys will also include for the first time a Ladies' event and a Tag-Team Valentine's Day tourney, Feb. 14. Bring your best friend, your girlfriend, your husband or wife. Two people trade off each time the blinds go up and the winning team splits the prize money!
-LA POKER CLASSIC NO LIMIT HOLD'EM CHAMPIONSHIP
Most anticipated is the L.A. Poker Classic No Limit Hold 'Em Championship event, Feb. 16-21, which will draw a stellar line-up of the game's icons and young stars, competing for millions of dollars of prize money. Last year's champion, 24-year-old Michael "The Grinder" Mizrachi claimed $1.859,909, and 2004's victor, another 24-year-old, Antonio Esfandiari took home $1,399,135. The event, which drew 535 players last year, is one of the largest on the World Poker Tour®. The winner also garners a $25,000 seat in the WPT World Championship in April at Bellagio in Las Vegas.
This showcase event will be televised on the World Poker Tour (Travel Channel, Wednesday nights at 9 p.m. PT/ET). It has a $10,000 buy-in and is expected to draw more than 600 players. The anticipated prize pool will exceed $6 million, and the first place winner will be guaranteed a $2 million payday. Buy-ins for these events can be as low as $40. Feb. 15 is One Table Satellite Day - an entire day of satellites dedicated to winning entry into the $10,000 Championship event.
At the L.A. Poker Classic Championship event, you just might end up sitting across from such poker luminaries as T.J. Cloutier, Phil Hellmuth, Gus Hansen, Howard Lederer, Jennifer Harman, Daniel Negreanu, Annie Duke, Erick Lindgren or Phil "The Unabomber" Laak.
-COMPLETE TOURNAMENT SCHEDULE
In its totality, the L.A. Poker Classic Tournament encompasses a series of poker events leading up the $10,000 Championship, beginning Jan. 19. Any poker player can still either buy-in or win their way into individual events by entering satellite tournaments. Scheduled now are Limit Hold 'Em, Stud Hi/Low Split, Pot Limit Omaha High, 7-Card Stud, Omaha Hi/Low Split and Stud Hi/Low Split tournaments. There's a $50,000 bonus for the best all-around player. A complete schedule can be viewed on the Commerce Casino website.
This year, the tournament will also feature Commerce Casino's first L.A. Poker Classic Ladies No Limit Hold'em Event on Jan. 28. Registration for all events including the inaugural Ladies and Tag Team events, satellites and the $10,000 Championship is at the tournament registration desk in the Casino.
-COMMERCE CASINO
Commerce Casino is the largest poker casino in the world. There are more than 200 poker tables featuring just about every form of poker: Texas Hold 'Em, 7-Card Stud, Omaha, Lowball, Pot Limit, Mexican Poker, Pineapple, Draw, Low-Ball and many others. Also offered are Pan and California games.
Commerce Casino is also recognized for its innovative "Bring Your Home Game to Commerce" program which enables poker fans to invite their friends and family for a casual home game, bachelor party or birthday celebration with a professional dealer in the casino setting.
Commerce Casino is located at 6131 East Telegraph Rd., Commerce, CA 90040, just off the Santa Ana (5) Freeway at the Washington Blvd. exit. The phone is (323) 721-2100