HOLLYWOOD, California -- It was girl's night out at the
World Series of Poker
Ladies Event with the debut of the Hollywood Poker Diamonds, an all-star female celebrity team playing for charity,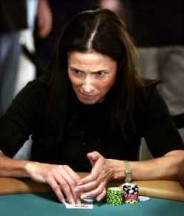 Mimi Rogers placed high in the money at the WSOP Ladies Event.
sponsored by Hollywood Poker.com (www.hollywoodpoker.com), where the stars come to play. Team member Mimi Rogers ("The Loop," The Door in the Floor) finished as the last celebrity standing in the tournament placing 33rd and winning $5,132. Also finishing in the money was Victoria Pratt ("Daybreak") placing 72nd and winning $2,053. Both ladies will donate 25% of their earnings to the charity of their choice. Rogers played for Dream Foundation and Pratt played for St. Jude's Hospital.
The Ladies Event held July 9-10, 2006 at the Rio All-Suite Hotel & Casino in Las Vegas had over 1,100 participants playing for a $1 million plus prize pool up from last year's tournament with more than 600 players. Celebrity participants Rogers, Pratt and Kelly Hu (X-2: X-Men United, "In Case of Emergency") out lasted last year's reigning champ Jennifer Tilly.
"This was an amazingly fun experience to sit down and play with over 1,100 women," said Rogers. "I'm happy that Hollywood Poker allowed me to play on their team and help me raise money for my charity. This event has proved that women in poker rule!"
Commenting on the tournament Pratt quipped, "It was a thrill playing in the largest World Series of Poker Ladies Event ever. I've never sat for that long before. When I sit for 14 hours, I expect to end up in New Zealand, but ending up in the money was a kicker."
"I'm just so proud of the Hollywood Poker Diamonds," said Hollywood Poker star Vince Van Patten. "They are all an extraordinary group of ladies on screen, at the poker tables and in life with their philanthropic endeavors. I'm looking forward to see how Hollywood Poker players and celebrities do in the main event at the end of the month."
Other Hollywood Poker Diamonds team members included Anne Heche ("Men in Trees"), playing for Darkness To Light, Hu playing for Reef Check Hawaii, Ricki Lake (Park, Cecil B. DeMented) playing for Jacaranda Foundation, Jean Smart ("24," Lucky You) playing for Alzheimer's Association and Mena Suvari (Factory Girl, Domino) playing for World Vision. Julie Jordan, People Magazine West Coast Associate Bureau Chief, playing for Human Society of the U.S. also played on the team.
Brittani Simberg from Santa Monica, CA who entered and won the site's $5.50 online ladies only tournament hosted by Hollywood Poker.com (http://www.hollywoodpoker.com), and turned her small investment into a memorable weekend. Simberg received air, hotel accommodations at the Bellagio and the tournament buy-in. Throughout the weekend Simberg was treated like a star receiving VIP treatment attending a private dinner at the Bellagio with the celebrity team, riding in a limo to the tournament, posing for photographers and participating in interviews.
Hollywood Poker (http://www.hollywoodpoker.com) is already gearing up for the main event with James Woods, Vince Van Patten and additional celebrity guests that will participate for the site. In addition, Hollywood Poker will have a booth at the 2006 Gaming Life Expo held at the Rio starting July 27 through July 31, 2006. Hollywood Poker's celebrity guests will be on hand through that time providing autographs, poker lessons and taking photos with fans.
Over 200 celebrities can be found on Hollywood Poker. Celebrities that have played in recent events include James Woods, Vince Van Patten ("World Poker Tour"), Jason Alexander (Farce of the Penguins), Dennis Quaid (Vantage Point), Mena Suvari, Lenny Dykstra (NY Mets), Jon Favreau (The Break Up), Joshua Malina ("West Wing"), Mimi Rogers, Kevin Nealon ("Weeds"), Cheryl Hines ("Curb Your Enthusiasm"), Anthony Anderson (Hustle and Flow), Camryn Manheim ("The Practice"), Dule Hill ("West Wing"), Willie Garson ("Sex in the City"), Jeremy Sisto ("Six Feet Under"), Stephen Collins ("7th Heaven"), Seth Meyers ("Saturday Night Live"), Kelly Hu, Meat Loaf (Fight Club) and many others.
Hollywood Poker
Hollywood Poker bills itself as the place you can play online poker with real celebrities. James Woods and Vince Van Patten are regulars. The site delivers lots of other great benefits including technologically advanced online poker games, regular tournaments with huge prize pools, a professional and responsive player support team, and exciting game rooms and community message boards.