32 Vegas Top Spot for Gamblers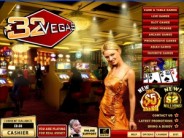 32 Vegas has a huge variety of slot machines, enough to satisfy any slot fanatic. The casino has over 30 video and classic slots to choose from including 7 progressives. You can play as little as a penny per spin all the way up to $5 per line. There are 2,3,5,8, and 9 line slots. Some of the outstanding video slot titles are Gold Rally, Vacation Station and Desert Treasure. Popular classic slots include Fountain of Youth, Bermuda Triangle, and Haunted House. With great variety, fantastic graphics, and innovative themes, 32 Vegas slots are a good thing.
HOLLYWOOD, California -- HollywoodPoker.com unleashes the wildly sexy 2009 HollywoodPoker Girl Calendar, hot off the press and just in time for the brand new year. Available on the site for purchase,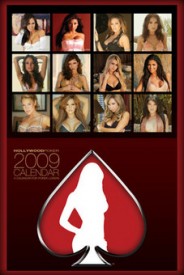 fans of sizzling models; Gelusa Zaripova, Emily Marie, Tracy Nova, Laura Leigh (True Beauty), Melissa Jo Berry, Mellie Zadeh, Kelli Lam, Claudia Verela, Hillary Fisher, Noelle Joy, Cathleen Lee and Jennifer Korbin, have been urged to get their copy while there's still stock.
These twelve beautiful ladies not only have their own spread in the 2009 calendar, they will also be featured on the site. Each HollywoodPoker Girl Calendar Model will be provided with a dedicated section where millions of fans are welcome to visit and get to know them more intimately. Additionally, they will represent HollywoodPoker at international industry events plus they can be found playing at the HollywoodPoker Celebrity Bounty Tournaments, happening three (3) times a week at the site.
"All I've got to say is, with beauties like ours in the 2009 HollywoodPoker Girl calendar, who wouldn't want to have all twelve delivered right to their doorstep! With the up-coming model search starting soon, we're anticipating more than this year's overwhelming response of over 10,000 international applicants step up and try out to be a HollywoodPoker Model!" commented HollywoodPoker spokesperson Vince Van Patten. HollywoodPoker, the leader in Celebrity Poker have taken the glamour of the game up a notch, hosting hundreds of Hollywood Stars and International Models at their tables. In true Tinsel Town fashion, the site continues to impress players with premium offers, promotions and unequalled customer service, fit for a STAR but open to all.
More information on HollywoodPoker development, tournaments and promotions can be found at hollywoodpoker.com

Hollywood Poker
Hollywood Poker bills itself as the place you can play online poker with real celebrities. James Woods and Vince Van Patten are regulars. The site delivers lots of other great benefits including technologically advanced online poker games, regular tournaments with huge prize pools, a professional and responsive player support team, and exciting game rooms and community message boards.