BRIGHTON MARINA, UK - What better location for live poker play than Brighton? Tie in a visit to one of the most popular seaside resorts in the UK and get together to play some quality poker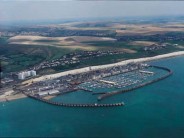 Brighton Marina, Ladbrokes' location for the Easter Rendezvous Festival courtesy of Ladbrokes. Evidently, the bods at Ladbrokes Poker, legendary for their hospitality have been thinking the same thing and in their distinctly indomitable fashion have created their Easter Rendezvous Festival. The Festival will be held at the Rendezvous Casino in Brighton Marina and will comprise seven events held over an eight day period between the 6th -13th April, with the Main Event starting on Sunday (12th April), concluding on the Monday.
Ladbrokes are adding over £20,000 to the Festival; five $5,000 Ladbrokes Poker Vegas Dream packages will be added to the £100,000 Main Event and €1,000 packages for their Irish Poker Festival in Killarney which kicks off in October will be added to three of the side events.
Every day until 30th March, players at Ladbrokespoker.com will be able to win a $1,500 Ladbrokes Easter Rendezvous Package which comprises the £550 Main Event buy-in, £50 bounty and £400 in expenses to get you there and cover your accommodation.
Edward Ihre said: "It is our aim as always to offer unrivalled hospitality and added value to all of our players. Our offline events are about more than just the poker. We concentrate on delivering an all round fun experience for our players that sets us apart from other sites. Obviously poker play takes precedence, but the community and social aspect that we're renowned worldwide for, is always high up on our agenda. The £50 bounty that we're offering as part of the package is exclusive to online Ladbrokes Poker qualifiers and adds value for players and means with a bit of luck, the majority leave with new found friends and money in their pockets."

Ladbrokes plc
Imperial House, Imperial Drive
Rayners Lane, Harrow
Middlesex HA2 7JW
United Kingdom
Phone: +44 (0)208 868 8899
Fax: +44 (0)208 868 8767
Website: www.ladbrokes.com

Ladbrokes is one of the world's leading bookmakers, with the biggest estate of betting offices in the world, telephone betting via three state of the art call centres, and world class eGaming operations offering an extensive range of betting and gaming services via www.ladbrokes.com as well as interactive TV and mobile betting services. The business remains focused on growth both at home and in the increasingly competitive global marketplace.