LuckyAce Casino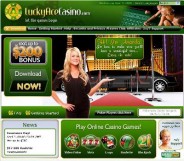 LuckyAce Casino is a new white-label casino that uses 888 software, the same platform that powers one of the oldest and most respected online gambling sites on the web, Casino-on-Net. LuckyAceCasino.com has all the most popular games including: BlackJack, Craps, Video Poker, Roulette, Keno and over two-dozen slot machines with better odds than a Las Vegas casino room. LuckyAce Casino does not accept US players.
KENTUCKY - As Reported by pocketfives.com: "The case involving the seizure and forfeiture of 141 internet gambling domain names reached a pinnacle on Tuesday afternoon. The Kentucky Court of Appeals


overturned the actions by the State and its Governor, Steve Beshear, sparing the domain names in question for the time being. However, the case may be appealed to the State Supreme Court, although an official announcement by the Kentucky Justice and Public Safety Cabinet has not been given. In total, Tuesday marked a groundbreaking day for the Interactive Media Entertainment and Gaming Association (iMEGA), the Interactive Gaming Council (IGC), and all parties involved.
The Court of Appeals ruled in favor of the internet gambling industry by a 2-1 vote, with Judge Michael Caperton providing the sole dissenting opinion. On the outcome of the case, iMEGA Chairman Joe Brennan told PocketFives.com, "We're really glad to finally put up a win for Internet gaming in the U.S. courts. We're really proud of the work our legal team did because it made up the entire case that the Kentucky Appeals Court based their decision on." It has been an uphill battle for iMEGA, IGC, and the entire industry, which saw 141 of the world's largest internet gambling domain names threatened.
The Commonwealth seized the sites in question on the grounds that they were "gambling devices," similar to slot machines, roulette wheels, and other paraphernalia found in an underground casino. The Court ruled, "It stretches credulity to conclude that a series of numbers, or internet addresses, can constitute a 'machine or any mechanical or other device… designed and manufactured primarily for use in connection with gambling.'" Therefore, the lack of jurisdiction by the Commonwealth of Kentucky to seize domain names took center stage in the Court's eyes..."