Phil Gordon's Little Blue Book
by Phil Gordon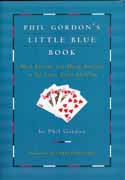 Valuable sections include Cash Games AND Tournament Play; Sit and Gos; Satellites and Supersatellites. Nicely illustrated with many lessons, examples and analysis, it's a balanced, smooth-reading textbook, some of which is based on the author's experience. This balance of common sense, strategies, ploys and an honest appraisal of what was going through his mind when he made his moves adds strength to this powerful, positive pack of lessons. One unique approach is to 'improve at poker is not by finding answers. It is by finding questions,' says champion Chris Ferguson in the foreward. This companion book to Gordon's Little Green Book does just that.
Read a review of Phil Gordon's Little Blue Book
LONDON -- As reported by CasinoTimes.co.uk: Rookie poker player Russ Taylor from Newcastle was in seventh heaven yesterday, having qualified to take on the 'Gods of Poker' in the £500,000 William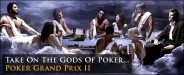 Will the Gods of Poker be kind or angry?
Hill Grand Prix II tournament, one of the most prestigious events on the poker circuit.
Russ (40) won his direct seat to this exclusive tournament after beating 69 other players in the first land based qualifier at Aspers Casino, Newcastle-Upon-Tyne on Tuesday night. He will now take on the 'Gods of Poker' - forty four of the leading poker professionals in the world, gathered together for this unique tournament which will be fimed for broadcast on Sky Sports TV and won last year by American Phil' The Unabomber Laak.
Local businessman Russ 'The Suit' Taylor, whose ever-smart appearance has earnt him his moniker, has only been playing poker for 2 years, mainly online and at Aspers Casino but this is undoubtably his biggest win so far. And although he is excited to soon be facing some of the biggest names in poker in the Grand Prix II, he doesn't think he will be fazed by his mighty opposition. "This is a great thrill, I'm on a roll at the moment, but I'll just go there and play my cards and do my best. I've never even been on TV before so it is a fantastic opportunity and many thanks to Aspers and William Hill."
The William Hill Grand Prix is unique from other televised poker tournament because it incorporates a 'blind' structure designed to bring out the true skill of poker instead of trying to fit with tight production schedules. Russ will be one of only twelve 'mere mortals' from land based and Online Poker qualifiers who will pit their wits against the forty four Gods of Poker in a poker room, within a luxury penthouse TV set and will experience how poker should truly be played. With the original Grand Prix showing on Sky Sports to what turned out to be the biggest TV audience for a UK tournament, viewers will be able to follow Russ's progress on in early 2007 as Sky Sports have again snapped up the rights to show this event.
A review of the qualifier at Aspers will be shown on William Hill's Poker programme (Poker 425) on Sky Channel 854 from Wednesday 6th September for a week, every night at 11pm.
William Hill Poker
7th Floor, Milton House
Charter Row
Sheffield S1 3FZ
United Kingdom
Toll Free Phone: +44 (0)870 600 0479
Website: www.williamhillpoker.com

William Hill is the UK's biggest betting company - offers a superb poker room and they're giving free cash to new players. Join now and you'll get paid £5 per hour to play. You can spend a total of five hours of paid playing time and receive a maximum credit of £25. And once you've taken this bonus, the free cash doesn't dry up - you can now get paid to play every month - up to a maximum of £25 per month.