Phil Gordon's Little Blue Book
by Phil Gordon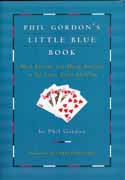 Valuable sections include Cash Games AND Tournament Play; Sit and Gos; Satellites and Supersatellites. Nicely illustrated with many lessons, examples and analysis, it's a balanced, smooth-reading textbook, some of which is based on the author's experience. This balance of common sense, strategies, ploys and an honest appraisal of what was going through his mind when he made his moves adds strength to this powerful, positive pack of lessons. One unique approach is to 'improve at poker is not by finding answers. It is by finding questions,' says champion Chris Ferguson in the foreward. This companion book to Gordon's Little Green Book does just that.

All In: The (Almost) Entirely True Story of the World Series of Poker
by Jonathon Grotenstein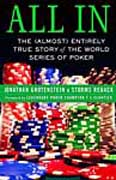 Jonathan Grotenstein and co-author Storms Reback, have done a remarkable job of research in writing 'All In: The Entirely True Story of the World Series of Poker,' using hundreds of resources, interviews and re-creations of hands and situations to take care of everything a poker buff might want to know about the most famous poker tournament in the world. Well-indexed, this is the story about how the game became popular, and of the people who helped and are helping promote it.