Your Worst Poker Enemy -- Master The Mental Game
by Alan Schoonmaker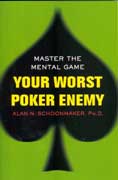 In Your Worst Poker Enemy, psychologist Dr. Alan Schoonmaker shows you how to reap the full benefits of the poker knowledge you already have by helping you to identify and stop psychologically based mistakes. This must-have book also features detailed sections that examine crucial points far beyond the scope of most other poker strategy guides, including: Using Intuition vs. Logic; Evaluating Yourself and the Opposition; Understanding Unconscious and Emotional Factors.

The Poker Mindset (Essential Attitudes for Poker Success)
by Matthew Hilger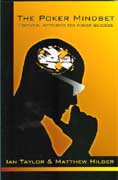 The authors answer the question of what 'secret' separates top poker players from poker wannabes. They explain that pros use a series of established approaches and behaviors that enable them to bring their best game to the table session after session, regardless of short-term results. Taylor and Hilger lay bare, the seven core attitudes and concepts that ensure you have the optimal emotional, psychological, and behavioral framework for playing superior poker.