LAS VEGAS – The famed Stardust Casino and Hotel was imploded early this morning by the city's most prolific demolition company. The two towers, which measure 9 and 32 stories for a total square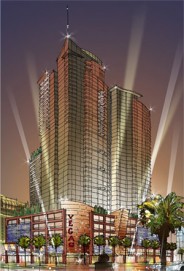 Echelon Place will replace the Stardust. footage of 879,591, were imploded simultaneously at 2:30 a.m. local time on March 13, 2007. The higher tower was the tallest building ever imploded on the Las Vegas Strip.
Las Vegas-based LVI Environmental Services of Nevada was engaged to remediate and demolish 27 structures on the 63- acre site, totaling 2 million square feet. Demolition began in December 2006, with asbestos abatement and traditional demolition work. More than 100,000 square feet of asbestos-containing materials have been removed from the property. Upon completion, 170,000 tons of debris will have been removed from the site of the Stardust, with 80 percent being recycled. LVI will spend the next eight weeks finishing cleanup of the site and preparing it for development of property owner Boyd Gaming's new Echelon Place resort.
Prior to the demolition, Boyd Gaming held a liquidation sale, dispensing with the furnishings and equipment within the buildings. Prior to implosion, LVI ensured the removal of all debris within the buildings wherever possible. The company mechanically demolished various structures on the site, and removed interior non-load bearing walls and internal structures. LVI was also responsible for ensuring that all utilities were disconnected from the property or protected prior to the implosion and final demolition work.
"We're pleased to help Boyd Gaming and our other clients with projects like this, where protecting and preserving the environment is a top priority for them," Bob McNamara, LVI Services' President and CEO said. "On this and all projects, we remain committed as a company to providing safe, high-quality environmental solutions for our clients."
The implosion of the Stardust marks the beginning of Echelon Place, Boyd Gaming's multifaceted destination resort. Boyd Gaming will begin construction of Echelon in the second quarter of 2007 and plans to open in the third quarter of 2010. The Stardust was the setting for the award-winning Hollywood movie "Casino."
Elsewhere in Las Vegas, LVI has handled the implosions of the Castaways, Sands, El Rancho, Desert Inn and original Aladdin casinos. LVI has also been involved in the demolition of industrial manufacturing and chemical plants, power plants, metal mining facilities and Hollywood movie sets.