Stretch Your Bankroll Online!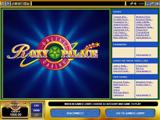 Roxy Palace can really help you stretch your casino bankroll. The casino has games with more favorable odds than you would find at most casinos in the United States. Add to that the generous bonus that you receive just for signing up, and you are getting a lot of extra playing time for your gambling dollar.
LAS VEGAS -- As reported by the Associated Press: "The New Frontier casino-hotel was imploded early Tuesday, giving a violent end to the second property to open on the Las Vegas Strip.
"The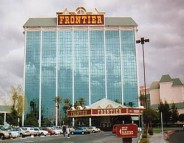 The New Frontier Casino in happier days. . . 16-story hotel tower was felled with over 1,000 pounds of explosives before a group of reporters and bystanders to make way for a multibillion-dollar resort bearing The Plaza brand, which is set to open in 2011.
"Elad Group owner and Israeli billionaire Yitzhak Tshuva, who is partnering to build an $8 billion megaresort where the New Frontier stood, shook hands and gave hugs after the tower went down.
"An easterly breeze helped to quickly dissipate the dust.
You can watch a nice long farewell to the New Frontier
here