32 Vegas Top Spot for Gamblers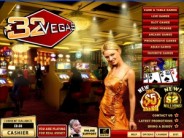 32 Vegas has a huge variety of slot machines, enough to satisfy any slot fanatic. The casino has over 30 video and classic slots to choose from including 7 progressives. You can play as little as a penny per spin all the way up to $5 per line. There are 2,3,5,8, and 9 line slots. Some of the outstanding video slot titles are Gold Rally, Vacation Station and Desert Treasure. Popular classic slots include Fountain of Youth, Bermuda Triangle, and Haunted House. With great variety, fantastic graphics, and innovative themes, 32 Vegas slots are a good thing.
LAS VEGAS -- Empire Resorts, Inc. (NASDAQ: NYNY) today announced that on Thursday, June 15, 2006, the Sullivan County Legislature passed a resolution approving a local mitigation agreement between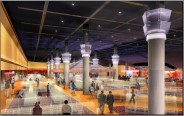 Artist's rendering of casino floor of proposed Mohawk Monticello Raceway Casino Resort
the County and the St. Regis Mohawk Tribe in regards to a casino at Monticello Raceway. This agreement stipulates that the tribe will make annual payments of $15 million dollars to the County to mitigate any potential impact of the proposed Class III casino.
Sam Wohl, Sullivan County Legislator and Chair of the Sullivan County Industrial Development Agency, stated, "The St. Regis Mohawks will become a big player in our local economy. The positive economic spin-off from this casino will translate into new job opportunities for our residents, increased local commerce and a jump-start to our tourism industry."
David P. Hanlon, Empire's President and CEO, commented, "We are pleased to see the County reach agreement with our partners, the St. Regis Mohawk Tribe. We believe there will be many substantial benefits to Sullivan County and the surrounding community from a casino and look forward to working with the local leadership to make this dream a reality."
Empire Resorts Inc.
RT 17 B
PO Box 5013
Monticello, NY 12701
Empire Resorts is a gaming and resort management company located in Monticello, New York and is the parent company of the Mighty M Gaming facility at Monticello Raceway. the closest gaming venue to Manhattan, Mighty M Gaming has over 1,500 video gaming machines (VGMs) which are regulated by the New York State Lottery.