LAS VEGAS -- Empire Resorts, Inc. ("Empire") (NASDAQ: NYNY) today announced that on Thursday, May 25, 2006, Gregory J. Allen, the Senior Assistant Counsel to Governor George Pataki, sent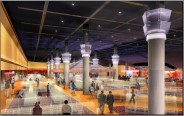 Artist's rendering of casino floor of proposed Mohawk Monticello Raceway Casino Resort
a letter to George T. Skibine, Director of the BIA's Office of Indian Gaming Management, stating that the Governor strongly supports the St. Regis Mohawk Tribe's efforts to build a casino at Monticello Raceway. In addition, the letter requested that the BIA expedite its review of any remaining environmental assessment issues and notify the Governor's office when all matters have been satisfactorily addressed.
David P. Hanlon, Empire's President and CEO, commented, "We are grateful to the Governor's office, once again, for showing its support for our partners, the St. Regis Mohawk Tribe. We are nearly complete with providing the additional information requested by the BIA and will respectfully await the outcome of their review process."
Empire Resorts Inc.
RT 17 B
PO Box 5013
Monticello, NY 12701
Empire Resorts is a gaming and resort management company located in Monticello, New York and is the parent company of the Mighty M Gaming facility at Monticello Raceway. the closest gaming venue to Manhattan, Mighty M Gaming has over 1,500 video gaming machines (VGMs) which are regulated by the New York State Lottery.