LuckyAce Casino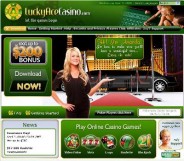 LuckyAce Casino is a new white-label casino that uses 888 software, the same platform that powers one of the oldest and most respected online gambling sites on the web, Casino-on-Net. LuckyAceCasino.com has all the most popular games including: BlackJack, Craps, Video Poker, Roulette, Keno and over two-dozen slot machines with better odds than a Las Vegas casino room. LuckyAce Casino does not accept US players.
LAS VEGAS -- Empire Resorts, Inc. (NASDAQ: NYNY) today reported financial results for the first quarter ended March 31, 2006.
Net revenue for the first quarter was $22.7 million, up 36% from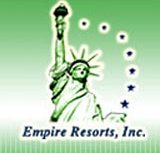 Empire Resorts owns the Mighty M gaming facility,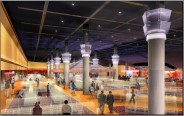 Artist's rendering of casino floor of proposed Mohawk Monticello Raceway Casino Resort
the $16.7 million reported in the first quarter of 2005. Revenue from racing increased by approximately $1.7 million, or 56%, reflecting higher revenue allocations from off-track betting facilities, while revenue from the company's video gaming machine (VGM) business rose by approximately $4.0 million, or 31%. Empire's VGM operations experienced an increase in daily visits of approximately 9%, and the daily win per unit rose to $122 for the first quarter of 2006 from $84 last year, up 44%. The average number of machines in service was 1,576 this quarter compared with 1,744 for the corresponding period in 2005.
Operating costs rose by approximately $3.4 million, or 22%, for the quarter versus the prior-year period, in line with the rise in revenue. EBITDA improved to $0.1 million from $(1.3) million in the first quarter of 2005. The company posted a net loss for the first quarter of $(2.2) million, or $(0.08) per diluted share, compared with $(3.1) million, or $(0.12) per diluted share, in 2005.
Reflecting on these results, David Hanlon, CEO and president, commented, "We are very pleased with the growth in our core operations and continue to experience strong demand for our VGM offerings. Empire Resorts is attracting customers with new dining and entertainment offerings, while utilizing the venue more efficiently and improving the daily win per unit. In regards to our plans for the St. Regis Mohawk casino, we are making progress on the list of items provided by the Bureau of Indian Affairs and will provide an update to investors as soon as possible. The areas requiring additional attention are considered manageable, and we remain steadfast in working with our partners, the St. Regis Mohawks, to bring a casino resort to the Catskills in the near future."
Empire Resorts Inc.
RT 17 B
PO Box 5013
Monticello, NY 12701
Empire Resorts is a gaming and resort management company located in Monticello, New York and is the parent company of the Mighty M Gaming facility at Monticello Raceway. the closest gaming venue to Manhattan, Mighty M Gaming has over 1,500 video gaming machines (VGMs) which are regulated by the New York State Lottery.