ATLANTIC CITY, New Jersey – As reported by the Press of Atlantic City: "Shuttered and stark, the old Sands Casino Hotel awaits a spectacular implosion that will reduce it to tons of rubble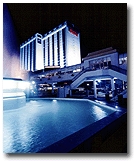 The Sands in Atlantic City is slated for implosion. in mere seconds.
"In its place will rise a $1.5 billion resort that represents the next generation of Atlantic City casinos — gigantic, luxurious and packed with nongaming amenities to give customers more to do than just gamble.
"Giving a sneak peek of its plans, casino operator Pinnacle Entertainment Inc. says it will use Atlantic City's upscale Borgata Hotel Casino & Spa and two megaresorts on the Las Vegas Strip as models for its new project.
"…Construction is expected to start in 2008, with a grand opening in 2011. The casino likely will feature 2,000 hotel rooms, between 120,000 and 125,000 square feet of gaming space, high-end retail shops and a large entertainment venue…"
Pinnacle Entertainment
3800 Howard Hughes Parkway
Las Vegas, NV 89109
Pinnacle Entertainment owns and operates casinos in Nevada, Louisiana, Indiana and Argentina, owns a hotel in Missouri, and receives lease income from two card club casinos in the Los Angeles metropolitan area. Pinnacle also has two casino development projects in the St. Louis, Missouri area, which are dependent upon final approval by the Missouri Gaming Commission.