Club USA Casino Blackjack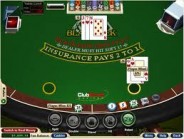 Club USA Casino Blackjack is the best bet for practicing blackjack basic strategy without stress and distractions. The game comes in both free play and real money modes and you can play up to three hands on your own table. The rules are favorable and with a house edge of only 0.71%, better than many casinos. The table minimum is $1 per hand and the maximum is $500.
Great Video Poker at Club USA Casino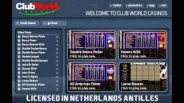 Club USA Casino offers a huge variety of video poker machines in a range of denominations. There over 14 different video poker games including Deuces Wild, All American Poker, Jacks or Better, Joker Poker and more. Many are available in multihand video poker format. Coin-in choices range from $.05 to $5.00 on single hand machines and $.01 to $1.00 on multi-hand machines.
RUSSIA -- As reported by The (British) Independent: " ...Russian officials insist they will strictly enforce a law due to come into force at the end of this month that bans all casinos in the

country, except in four gambling zones.
"...Officially there are 30 casinos and more than 500 slot machine halls in Moscow, but as of 1 July, they all have to be closed down, along with casinos in every other Russian city.
"The idea was that by the time the ban came into force, four 'gambling zones' would have been set up, each of which would be a mini Russian Las Vegas, spread across Russia's vast landmass...
"...The minor problem is that none of these zones is yet ready for operation. Indeed, building and construction work has not even started, according to reports.
"...Part of the reason that work has been so slow on the new zones is that nobody believed that the ban would ever be properly implemented.
"...Moscow authorities are adamant that come the end of this month, casino gambling in the cities will be a thing of the past..."