WEST VIRGINIA - As reported by the West Virginia Herald-Dispatch: "Gambling lobbyists once again are asking state lawmakers to let voters decide whether they want to allow table games at West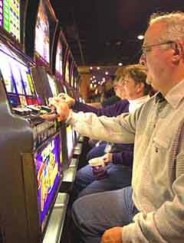 Slot players at Charles Town Races & Slots may soon be joined by blackjack and roulette fans. Virginia's four racetrack casinos.
"A bill (HB 4314) was introduced Wednesday in the House of Delegates that would authorize referenda in the four counties that have racetrack casinos: Kanawha, Ohio, Hancock and Jefferson.
"The bill is similar to table gaming legislation that passed last year in the Senate but died in the House on the last day of the legislative session. Despite pleas from a group of legislators, Gov. Joe Manchin refused to put it on a special session agenda in September.
"Racetrack officials and lobbyists say they need table games this year because they stand to lose customers and revenue to 61,000 new video slot machines in Pennsylvania.
"Foes of table games, which are now available in 11 other states, oppose the expansion of gambling in West Virginia and decry the state's increasing reliance on lottery revenues.
"...The state's annual tax revenue from the four racetracks could jump from $375 million for last fiscal year to nearly $425 million in 2007, if table games are allowed, according to the gambling lobby.. But without table games, there could be a drop in revenue to $265 million for the year.
"...A staunch opponent of gambling, Delegate Kelli Sobonya, R-Cabell, said the industry is getting ahead of itself with the bill that was introduced Wednesday. She said that Las Vegas-style table games such as poker, roulette and blackjack are illegal under the state constitution. For them to be legal would require a constitutional amendment, she said. Attorneys representing the industry dispute her claim…"