Sharks in the Desert
by John Smith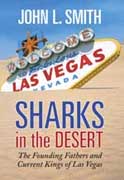 One of Nevada's finest newspaper columnists and authors here has penned one of the best biography-history combination books ever with tis work which focuses on those folks who made big money in the casino business. How HAS Las Vegas changed since the early days? Who were the visionaries, the entrepreneurs, those who anticipated what it has become today? Also, what changed the perception of Las Vegas as an 'outlaw city,' to 'a community that prospered because it remained intriguing and was able to constantly reinvent itself'? From Meyer Lansky and Bugsy Siegel, the Flamingo and El Rancho to the earliest days of the Frontier and Stardust, Smith takes us on a historic trip, focusing on the people, their dreams, what went right, what went wrong and how it all led to the Las Vegas we know today.
Read a review of Sharks in the Desert

Global Gaming Business
Global Gaming Business is a premium monthly trade publication focusing solely on the casino gaming industry worldwide. A unique combination of features, columns and departments, the magazine provides innovative editorial coverage. Global Gaming Business also publishes the most timely gaming electronic news magazine, Global Gaming Business Weekly, a joint venture with Spectrum Gaming Group and Michael Pollock's Gaming Industry Observer. Global Gaming Business is an official publication of the American Gaming Association and Global Gaming Expo (G2E).

Harrah's Entertainment
Please visit Harrah's Entertainment's website for more information regarding financial results, upcoming plans and details about Harrah's properties.
MGM Mirage
The MGM Mirage website has a full complement of information regarding the company including investor relations and the latest press releases. The site also includes details for all of the company's properties, the M Lifestyle Magazine, and restaurant and show reservations.
PartyGaming
The corporate website for PartyPoker and PartyCasino, PartyGaming.com has a full host of information regarding the company. Brand descriptions, investor relations, media center, career center, and the latest press and share results are all available.
Magna Entertainment Corp.
Magna Entertainment Corp. (MEC) is North America's number one owner and operator of horse racetracks, based on revenues, and one of the world's leading suppliers, via simulcasting, of live racing content to the growing inter-track, off-track and account wagering markets. MEC currently operates or manages eleven thoroughbred racetracks, one standardbred (harness racing) racetrack, two racetracks which run both thoroughbred and standardbred meets, as well as the simulcast wagering venues at these tracks. The website provides details of Magna's operations, financial data, and contact info.