LAS VEGAS -- Full House Resorts has announced that it has completed the acquisition of Stockman's Casino in Fallon, Nevada from the James R. Peters Family Trust for a purchase price of $25.5 million,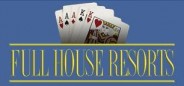 subject to adjustment based on Stockman's financial performance over the past 12 months. Stockman's Casino has approximately 8,400 square feet of gaming space with 274 slot machines, 4 table games and keno. There is a bar, a fine dining restaurant and a coffee shop. In addition, the facility includes a Holiday Inn Express, which has 98 guest rooms, indoor and outdoor pools, sauna, fitness center, meeting room and a business center. The acquisition was funded in part by a Reducing Revolving Loan from Nevada State Bank of $16 million.
T. Wesley Elam, Vice President of Operations, who will oversee Stockman's, stated, "we are very pleased with the level of proficiency and professionalism of the staff and the upkeep of the facility. We expect to build on the solid foundation that the Peters family has built over the years and we hope to continue their efforts."
Andre M. Hilliou, CEO of Full House Resorts, said that, "the acquisition of Stockman's creates the foundation for our entry into the local casino market. It provides a more stable long-term revenue stream while at the same time providing a training base for our upcoming tribal operations."
Full House Resorts Inc.
4670 South Fort Apache Road
Las Vegas, NV 89147
Phone: (702) 221-7800
Fax: (702) 221-8101

Full House Resorts is involved in casinos in Delaware, Oregon and California. Mill Casino-North Bend at Oregon has 250 video lottery terminals, 9 blackjack tables and nine poker tables, a restaurant and buffet, a saloon, a bingo hall an snack bar. Midway Slots and Simulcast-Harrington at Delaware features 742 gaming devices, 150-seat simulcast parlor, 450-seat buffet, 50 seat dinner and gift shop.