Roxy Palace Slots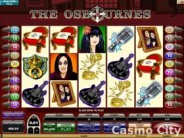 Roxy Palace has an astonishing variety of slot machines. At over 400 games, it should be enough to satisfy any slot fanatic. You can play as little as a penny per spin all the way up to $5 per line. Some of the outstanding video slot titles are The Dark Knight, The Osbournes and Thunderstruck. Popular classic slots include Captain Cash, Cosmic Cat, and Done Deal. With great variety, fantastic graphics, and innovative themes, Roxy Palace slots are a good thing.
LAS VEGAS -- Full House Resorts, Inc. (Amex: FLL) today announced the ground breaking on the expansion project for its Midway Slots operations at Harrington Raceway in Harrington, Delaware. The facility


Midway Slots will add electronic table games to the casino floor.
will be completely remodeled and expanded in this expansion effort. An additional 66,630 square feet will be added to the facility's existing 75,128 square feet and, when completed, will bring the total number of gaming devices to 2,000. The existing space will be remodeled with a consistent theme throughout.
At a cost of $35 million provided by Harrington Raceway, this expansion and remodel represents a major advance in the gaming and entertainment experience at Midway Slots. Plans call for the facility to remain open with all existing 1,500 slot machines to be operational during the remodel and food and beverage service to continue as well.
Andre M. Hilliou, Chief Executive Officer of Full House said, "This ground breaking represents another step in our goal to manage the premiere gaming entertainment center in Delaware. With our partner, Harrington Raceway, we expect this expansion to position us well for the future."
Full House Resorts Inc.
4670 South Fort Apache Road
Las Vegas, NV 89147
Phone: (702) 221-7800
Fax: (702) 221-8101

Full House Resorts is involved in casinos in Delaware, Oregon and California. Mill Casino-North Bend at Oregon has 250 video lottery terminals, 9 blackjack tables and nine poker tables, a restaurant and buffet, a saloon, a bingo hall an snack bar. Midway Slots and Simulcast-Harrington at Delaware features 742 gaming devices, 150-seat simulcast parlor, 450-seat buffet, 50 seat dinner and gift shop.