COLORADO SPRINGS, Colorado -- Century Casinos, Inc. announced today that the Company's new property, Century Casino & Hotel, in Central City, Colorado, has opened.
The new property includes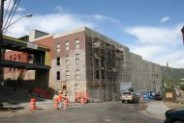 Construction is nearly over at the Century Casino and the property will have a soft opening on July 10th.
a 60,000 square foot casino with 625 slot machines, six table games, 26 hotel rooms, retail, food and beverage amenities and a 500-space on-site covered parking garage.
Central City, a historical mining town located in the Rocky Mountains approximately 33 miles west of Denver, is easily accessible through a new four lane highway (Central City Parkway), offering the fastest route from the greater Denver area with a population of 2.7 million people.
In the fourth quarter 2006, Century Casinos plans to open another new Century Casino & Hotel in Edmonton, Canada, and a new casino and hotel facility for the Monte Vista Casino & Conference Center in Newcastle, South Africa. Additionally, the Company entered into an agreement to acquire a 33.3% controlling stake in Casinos Poland's eight casinos, which is still subject to due diligence and the approval of the Polish Anti Monopoly Authority. These new properties will increase the number of casinos owned and/or operated by Century Casinos from 11 to 20 and will more than double Century Casinos' casino and hotel capacity by the end of 2006.
Century Casinos Inc.
1263 A Lake Plaza Drive
Colorado Springs, CO 80906
Phone: (719) 527-8300
Fax: (719) 527-8301
Website: www.cnty.com

Century Casinos is an international casino operator located in Colorado. It owns and/or manages casino operations in the United States, South Africa, the Czech Republic, and international waters.