COLORADO SPRINGS, Colorado -- Century Casinos, Inc. announced today that due to better-than-expected construction progress, the Company will open its new property, Century Casino & Hotel, in Central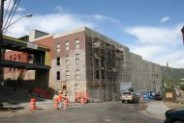 Construction is nearly over at the Century Casino and the property will have a soft opening on July 10th.
City, Colorado, on July 10, 2006, instead of early August as originally planned. The July 10 "soft" opening will be followed by a full week of opening celebrations at the end of the month.
The new property includes a 60,000 square foot casino with 627 slot machines, 12 table games (including a separate Poker Room), 27 hotel rooms, retail, food and beverage amenities and a 500- space, on-site, covered parking garage.
Central City, a historical mining town located in the Rocky Mountains approximately 33 miles west of Denver, is easily accessible through a new four lane highway (Central City Parkway), offering the fastest route from the greater Denver area with a population of 2.7 million people.

Century Casinos owns 65% of this $50 million project, with an option to buy out the minority shareholder.
Century Casinos Inc.
1263 A Lake Plaza Drive
Colorado Springs, CO 80906
Phone: (719) 527-8300
Fax: (719) 527-8301
Website: www.cnty.com

Century Casinos is an international casino operator located in Colorado. It owns and/or manages casino operations in the United States, South Africa, the Czech Republic, and international waters.