Weighing the Odds in Sports Betting
by King Yao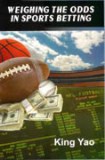 Weighing the Odds in Sports Betting consists of 23 chapters, many tables and a minimum of mathematical equations. The book discusses some of the most vital areas old pros ponder and beginners often misunderstand: why lines move; scalping and middling; hedging and hedge mistakes; parlay cards; first half betting; and the ever popular Super Bowl props. Included is material on money lines; removing pushes; the half-point and push percentage; money management; parlays; teasers; market value in sports bets; estimating the expected value of a hedge; avoiding hedge mistakes; hedging the second half. The discussion on betting NFL team wins and what to look for in parlay cards is valuable; those interested in office pools will find an edge as well. About 15 pages on basketball betting; eight on NFL totals. Packed with advice that examine the impact of returning starters in college football for example and the best time to bet, plus avoiding traps. Something for everyone including how to find a line service and the good and bad side of Internet forums and who's got value in the print or electronic media.

I'll Do My Own Damn Killin'
by Gary Sleeper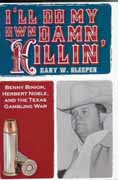 Benny Binion was a larger-than-life casino mogul who was build a legend for himself in Las Vegas. But before that, he led the Texas underground in a gambling war that lasted over fifteen years before he was "sentenced" to Las Vegas where he became the patron saint of World Series of Poker. In this new look at the man author Gary Sleeper presents previously unseen details of Binion's pre-Las Vegas life and spices it with electrifying details and sharp wit.