Jackpot Nation
by Richard Hoffer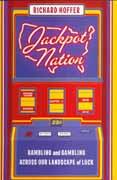 Estimating that Americans bet somewhere in the neighborhood of $80 billion last year, the author, a senior writer for Sports Illustrated wandered across the landscape showing us how we gamble, why we gamble, and why the biggest opponents of gambling are now the biggest fans. He visits trade shows, hangs around underground poker games, hustles for a side of bacon in a Minnesota bar, looks over expansion plans with a tribal chief, and pretty much looks at every angle of chance taking.

How to Beat Internet Casinos and Poker Rooms
by Arnold Snyder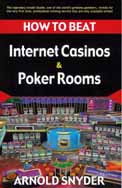 Who better to teach you how to beat the online casino and poker room than a man who has been beating land-based casinos (at blackjack) for decades? Snyder reveals how you can make money olnline without any special skills, mathematical ability, super memory, difficult systems to work or eve a big bankroll. Looking at this as easy money, he explains methods of play that can multiplay your bankroll many times with little risk. The 2/3 of the book cover all the major games and promotions while the last third focuses on poker.