Tax Guide for Gamblers
by Robert Roche

This was written by a team of gaming tax consultants providing gamblers with valuable information for years. Four sections include: The Origins and Structure of Tax Law; Tax Basics for All Gamblers; The Reporting Rules for Recreational Players; and a special Rules section for professional players.

Fooled by Randomness
by Nassim Taleb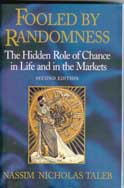 In its second edition, Fooled by Randomness is now a cornerstone for anyone interested in random outcomes. Published in 14 languages, this new edition, expanded by over 80 pages, includes up-to-date advances from behavioral finance and cognitive science. This book is about luck or more precisely how we perceive and deal with luck in life and business. It is already a landmark work and its title has entered our vocabulary.