More Book Reviews
Best Selling Poker Books of 2014
How did the new books compare to the old classics? Well, we will let the data speak for itself. Take a look at the list of the best selling poker books of 2014.
Deal Me In and Eat Professional Poker Players Alive Reviewed
There isn't a clear path by which people become professional poker players. There aren't any good courses at the local vo-tech for a person to study. The road to becoming a poker pro is inevitably difficult, circuitous, and filled with setbacks. Deal Me In is a book describing the course by which twenty top poker players became professionals.
Poker Winners Are Different
There is a big difference between what's typical human behavior and what is called for to play poker at a high level. There aren't a lot of people for whom maximizing their expectation in poker games comes naturally. Poker Winners Are Different by Alan Schoonmaker examines this conundrum.

The Guide to US Casinos and Racinos
by Richard Eng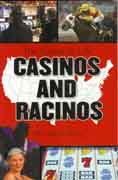 Eng, a horseracing handicapper and author, has compiled a list of about 1,000 gaming facilities across 36 states. This directory outlines all the casinos and racinos, including land based, riverboats and tribal establishments. He breaks the listings by state and includes complete address, phone and website infomration; hotel and room availability (and amenities), games available, dining choices, entertainment options, directions, nearest airport and RV facilities.

The 2013 American Casino Guide
by Steve Bourie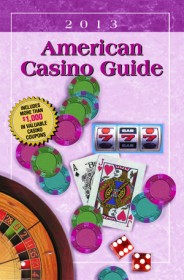 The American Casino Guide has been published annually since 1992 and is the most comprehensive book available for information on all U.S. casinos including all casino/resorts, riverboats and Indian casinos.

The new 2013 edition includes detailed information on more than 700 casinos in 40 states, plus it includes 203 coupons valued at more than $1,000! The coupons can be used now in 2012 and are valid until late December 2013.
Read a review of The 2013 American Casino Guide
A diverse quartet of new titles have arrived at Gambler's Book Shop this week — two should appeal to horseplayers and travelers; one is a vivid look at how a gambling addiction destroyed

Howard Schwartz, the "librarian for gamblers," is the marketing director for Gambler's Book Club in Las Vegas, a position he has held since 1979. Author of hundreds of articles on gambling, his weekly book reviews appear in numerous publications throughout the gaming industry. Howard's website is www.gamblersbook.com one man's life and the fourth is a great reference for those who love sports trivia (a super gift for Father's Day in June).
The Guide to U.S. Casinos and Racinos by Richard Eng (437 pages, paperbound, $19.95) fills an important informational gap with the surge of interest in racinos, those racetrack-casino combinations. Many people ask for information but few know all the locations and until now, no one put this data out there for the public. Eng, turf editor and handicapper for the Las Vegas Review-Journal and a former public relations director for three major racetracks, makes it easy for the occasional or frequent traveler to find pari-mutuel or casino action. He does so by offering addresses, phone numbers, addresses and web sites (to plan ahead), along with information about food, airports, directions , entertainment and RV facilities and the approximate cost of a room. The book, arranged alphabetically by state, also contains 20 pages of "how-to" wager information for the beginner at casino games. Published in early 2007 by the Daily Racing Form, this is a handy guide for the glove compartment.
The 2007 Pars Plus edition (150 pages, paperbound format, $100) reviews the results of more than 56,000 races from 2006 in North America. As the book describes itself …"these pars reflect a painstaking examination of the fractional and final times from a staggering amount of racing events for the entire year." Also: "the (par) times will provide you with any single running line in a horse's past performances in its proper perspective—namely whether it was faster or slower than the usual time for that race, and with a little comparison, how that performance relates to the pace-and-speed demands of the conditions for today's race." Par times help clarify if a horse is ready to step up in class, or if a seemingly "atrocious" running line is the past performances "actually meets the pace-and-speed requirements for today's race at a much lower class level." The book also helps the bettor distinguish "the wide degree of variation from the great tracks to the not-so-great and every step in-between." The book contains a valuable section titled How Tracks Behave: Individual Track Capsules, beginning with Albuquerque and ending with Zia Park.
Adam Resnick thought he knew it all. He won big, but lost bigger. He recently began a 3 ½-year term in federal prison after pleading guilty to wire fraud. His story—his big wins and a bigger slide down are documented in the book Bust: How I Gambled and Lost a Fortune, Brought Down a Bank and Lived to Pay For It. Co-authored with Todd Gold, this 278-page hardbound ($24.95) calls himself at age 30 "…arguably the biggest gambling addict on the planet.." He bets sports and 21, and wrote more than 100 bad checks to cover his losses. Resnick grew up in a middle class household in Wisconsin. His grandfather taught him gin and poker. He took to it like a duck to water. He was hooked on gambling early and eventually tried it all -- greyhound racing, cruise ship action, Nevada, Atlantic City, Midwestern casinos. He wrote this book to help warn others about the addiction.
On a lighter side, there's a fascinating little book titled 23 Ways to Get to First Base. Written by Gary Belsky and Neil Fine, two executive editors at ESPN The Magazine (305 pages, hardbound, $19.95), it is a wonderful collection of "totally irrelevant, absolutely essential sports knowledge." Packed with facts, figures, dates, data, it's great to settle "bar-bet" arguments. All major sports, some minor sports, games like poker too are included. Questions such as this appear: what athletes were drafted in more than one sport? Name famous thoroughbred "match races. What are the most common college nicknames? What ARE the 23 ways you can get to first base in baseball? What are the largest margins of victory in all major sports? What are the scoring values in various sports including archery? And—for the know-it-all you want to fluster, what words stumped the National Spelling Bee Runners-up?