More Book Reviews
Best Selling Poker Books of 2014
How did the new books compare to the old classics? Well, we will let the data speak for itself. Take a look at the list of the best selling poker books of 2014.
Deal Me In and Eat Professional Poker Players Alive Reviewed
There isn't a clear path by which people become professional poker players. There aren't any good courses at the local vo-tech for a person to study. The road to becoming a poker pro is inevitably difficult, circuitous, and filled with setbacks. Deal Me In is a book describing the course by which twenty top poker players became professionals.
Poker Winners Are Different
There is a big difference between what's typical human behavior and what is called for to play poker at a high level. There aren't a lot of people for whom maximizing their expectation in poker games comes naturally. Poker Winners Are Different by Alan Schoonmaker examines this conundrum.

Frugal Video Poker
by Jean Scott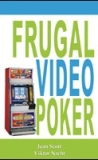 Jean Scott, the undisputed Queen of Comps, is now the Queen of Video Poker with the release of her latest Frugal gambling book, Frugal Video Poker. The book will help beginners and experts alike with its common sense approach backed up with rigorous statistics. For a great video poker read, pick up a copy of Frugal Video Poker.
Read a review of Frugal Video Poker
Gordon's poker book gets right to the marrow of the game of hold'em. As a player, analyst, narrator, spokesman for the poker industry, he's helped make the game more understandable for millions of

Howard Schwartz, the "librarian for gamblers," is the marketing director for Gambler's Book Club in Las Vegas, a position he has held since 1979. Author of hundreds of articles on gambling, his weekly book reviews appear in numerous publications throughout the gaming industry. Howard's website is www.gamblersbook.com newcomers, especially those who watch tournament play on television. His book is both a tutorial and an informational gap-filler as it takes the novice through the basics with and understanding that there is need to rationalize and emphasize key points.
This kind of approach make both the beginner and somewhat experienced players better by making them prepare and focus for the situations they will eventually encounter at the tables.His short but drive-the-point-home sections on laydowns; what to do after a bad beat; handling "rushes" (streaks where everything seems to be going right); the importance of observing betting patterns; when to change gears; timing the bets, are all things successful players including the world class pros have learned to develop and continue to modify, depending on opponents and situations. Gordon knows the game as well as anyone. His ability to teach, suggest, offer examples is some of the best you'll ever read