More Book Reviews
Best Selling Poker Books of 2014
How did the new books compare to the old classics? Well, we will let the data speak for itself. Take a look at the list of the best selling poker books of 2014.
Deal Me In and Eat Professional Poker Players Alive Reviewed
There isn't a clear path by which people become professional poker players. There aren't any good courses at the local vo-tech for a person to study. The road to becoming a poker pro is inevitably difficult, circuitous, and filled with setbacks. Deal Me In is a book describing the course by which twenty top poker players became professionals.
Poker Winners Are Different
There is a big difference between what's typical human behavior and what is called for to play poker at a high level. There aren't a lot of people for whom maximizing their expectation in poker games comes naturally. Poker Winners Are Different by Alan Schoonmaker examines this conundrum.

Point Spread Playbook
by Al O'Donnell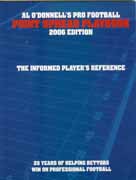 O'Donnell's book, subtitled 'The Informed Player's Reference,' has been providing bettors with information for more than 20 years. He doesn't tell you what to bet or against whom, but simply outlines what has happened in the past. O'Donnell offers three years of results, records against the spread and totals for each team, with a quick way to see if the game was at home, away, on grass or turf. The book can be used to keep records during the regular season, with room for scores, totals and whether the team covered. You'll be able to spot if a game is a conference, interconference or divisional battle and if the game is a Sunday or non-Sunday game.

Gold Sheet College and Pro Football Annual
by Gold Sheet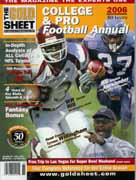 The Gold Sheet, now in its 50th year of operation, has both college and pro material (117 colleges) vital to bettors. Includes a complete preview of the teams, including projected offense and defense and specialists, game by game stats, last year's statistics, 5 years ATS info, complete offense and defense team stats combined for 2002-2005. Articles include preseason top 25, predictions for the NFL Division and odds to win Super Bowl XLI, preseason pointspread breakdown, exhibition logs for the NFL, college recruiting and the final 2005 NFL and college ratings.
Are you ready for the 2006 pro and college football season? Of course not. Baseball's still rolling. Basketball and hockey are finally winding down. And the heart of summer's heat hasn't

Howard Schwartz, the "librarian for gamblers," is the marketing director for Gambler's Book Club in Las Vegas, a position he has held since 1979. Author of hundreds of articles on gambling, his weekly book reviews appear in numerous publications throughout the gaming industry. Howard's website is www.gamblersbook.com hit us yet, so why would we be ready. But, this is the perfect time to do your homework by looking for soft schedules; evaluating the impact of trades; projecting who'll win how many games; ferreting out future bet sleepers and trying to determine who takes exhibition games seriously -- among other considerations.
In keeping with the theme that winners are produced by preparation and discipline, here are four important resources to consider:
Al O'Donnell's Pro Football Point Spread Playbook: 2006 edition (113 pages, paperbound, $19.95). The Illinois-based O'Donnell has his 28th annual edition out ahead of the pack with hundreds of potential betting angles for sides and totals, plus schedules, room to keep records. O'Donnell doesn't tell you who to bet -- for or against. His strength is to just present the facts, telling you how a team performed at home or away for past seasons, who they dominated or who has the edge over them in regard to spreads or in overs and unders. The book contains pointspread histories for the past three years for each pro team plus a clear indication of the type of surface the game was played on, what the total number was and if the game score went over or under. You'll be able to see, in summary form, how teams performed overall on Monday night (as a favorite or dog, home and away), on grass or turf each of the last three seasons and overall for the period, and how well they did versus division and conference teams.
O'Donnell's book makes it easy to double as a record-keeper as well, with an instant look at the schedule, whether the game is against a division or conference rival or inter-conference; on turf or grass, with room for results and whether a team covered or went under or over. There's a handy little section comparing the money line to the spread; a complete Super Bowl spread and totals history from 1967 to 2006. It also shows how teams performed the following season after a Super Bowl win.
O'Donnell's book is both a gift and reference source for the beginner or seasoned pro.
Another respected handicapper and statistical analyst, Andy Iskoe, has his 2006 editions of the Pro Football Statistical Pattern Report (20 pages, stapled, paperbound, 8x11, $10) and College Football Statistical Pattern Report (16 pages, stapled paperbound, 8x11, $10) ready. Each book answers the question most handicappers ask: What causes teams to cover the pointspread? In an 18-season study of 4,500 pro games and more than 11,000 college games, Iskoe examine the key offensive and defensive box score statistics; showing you year by year how rushing, passing, turnovers, total yards affect performance and why the team covered. Double-edged powerhouses, which can rush and pass yet are capable of stopping their opponent from moving the ball, are clearly most effective in covering the spread. This is a thinking-man's approach to handicapping a game. It involves using statistics and past performances, while saving the handicapper countless hours of testing theories and angles.
Iskoe offers illuminating examples and guides the handicapper with a formula, a technique for incorporating a variety of factors. In effect he is showing you that handicapping is both an art and a science.
The Gold Sheet, College and Pro Football Annual (240 pages, magazine, $6.99) is a remarkable best buy for a variety of reasons. It offers a look back at three complete exhibition seasons for the pros showing you score, spread and totals and lists the 2006 games by team. Also, you can see a pointspread breakdown for the last four seasons for each pro exhibition game, enabling you to spot how a team did as a favorite; as a favorite for more than three points; how they did after a straight-up loss. For each pro team you'll see their draft picks; key boxscore statistics from every game played last season on offense and defense; four complete regular season pointspread histories, game by game; what their projected 2006 lineups are on offense and defense and some tips for fantasy league players.
The college section begins on page 90 with a recruiting ranking for each team (Texas and Florida State rank 1-2); with a review of major conferences, then a look at each conference team, including four years of spreads, Totals for each. The projected starting lineups (offense and defense) for each team are provided, with an indication of returning starters and there's a look at key boxscore statistics for all 2005 games and individual statistical leaders for the team.
For those who yearn for pro and college power ratings, the end of season numbers for each team are on the final page of the magazine including a rating for the home field value (amazingly some stadiums offer quite an edge, with Iowa and Hawaii among the best in the colleges and in the pros, Seattle and Pittsburgh ranked 1-2).