More Book Reviews
Best Selling Poker Books of 2014
How did the new books compare to the old classics? Well, we will let the data speak for itself. Take a look at the list of the best selling poker books of 2014.
Deal Me In and Eat Professional Poker Players Alive Reviewed
There isn't a clear path by which people become professional poker players. There aren't any good courses at the local vo-tech for a person to study. The road to becoming a poker pro is inevitably difficult, circuitous, and filled with setbacks. Deal Me In is a book describing the course by which twenty top poker players became professionals.
Poker Winners Are Different
There is a big difference between what's typical human behavior and what is called for to play poker at a high level. There aren't a lot of people for whom maximizing their expectation in poker games comes naturally. Poker Winners Are Different by Alan Schoonmaker examines this conundrum.

Unofficial Guide to Las Vegas
by Bob Sehlinger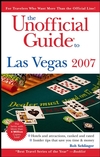 Here's the perfect companion for the person who really wants to plan a trip to Las Vegas and know what to expect in regard to hotel, show, transportation and food prices, room rates etc. The unique approach of this book is matched by no other reference source—telling you how long it'll take you to go from one location to another by foot or taxi, how much it would cost by public transportation. The book describes the major showroom attractions and usual show times, where to make reservations, how much you can expect to pay, the nights of the lowest attendance, how long the show lasts, and rates the show's appeal to different age groups. You'll also find out if the show involves topless dancers, whether tips are included in the price, and a description of the show's contents (so you can see if it's suitable for children, a conservative group, etc.).There's a description of off-Strip bars, lounges, hangouts, their hours, cost of drinks, if there's a minimum, type of crowd it appeals to.

Blackjack at Casino-on-Net
Casino-on-Net takes a progressive approach to blackjack players by featuring a thorough rule and strategy section on the site. The blackjack help area even has a blackjack basic strategy card.
Maybe I'm biased. I enjoy discovering books and resources that can save people time and money, and I enjoy finding others that explain concepts many people have pondered for years. Two such titles

Howard Schwartz, the "librarian for gamblers," is the marketing director for Gambler's Book Club in Las Vegas, a position he has held since 1979. Author of hundreds of articles on gambling, his weekly book reviews appear in numerous publications throughout the gaming industry. Howard's website is www.gamblersbook.com have arrived at Gambler's Book Shop recently. They are The Unofficial Guide to Las Vegas (2007) (470 pages, paperbound, $17.99), compiled by Bob Sehlinger, and The Physics of Basketball by John Fontanella (149 pages, hardbound, $25).
Sehlinger's Las Vegas guide offers maps, information about the time it might take you to go from one part of Las Vegas to another by car or taxi (depending on traffic, conventions and time of day) and what the benefits staying on the Strip might be compared to Downtown.
He lists major 2007 conventions to alert you to the scarcity of rooms at certain times of the year and who might be running through the lobby with a stuffed moose on their heads. He tells you what the weather is like in winter, day or night plus what web sites, publications will helpfully tell you which shows, entertainers are featured each month.
As for shows, he indicates which are the best shows for adults and for families, whether there are special rates for conventioneers, and when it is best to buy a package from a tour operators or wholesaler.
How do the hotels compare in expense and location? Interested in the spa, tennis or golf, bowling, shopping, dining? Who is rated the best? The book rates the hotels. Who has RV facilities? Who do you call for more information? What are the toll-free numbers, web sites and how might you save on show tickets? You'll find the answers here. And, the book profiles night clubs with a list of any cover charges, dress codes, open and closing times and the crowd you'll see on the dance floor, whether food is served, if ladies get in free, and more.
There's good material on the great variety of Las Vegas restaurants and whether you need reservations and how pricey they are. For those who want to get away from it all for a while, the various tours are listed, with how much time you can expect them to take (two hours to all day for example). Finally, for those who need some basic gaming advice, there's a nice section for beginners on most major games with recommendation on which hotels offer the most for the buck.
Read this book before you arrive in Las Vegas. You'll know where you're going and why, with confidence.
The Physics of Basketball, written by a physics professor at the U.S. Naval Academy, is divided into five major chapters. The book has formulas, figures and illustration explaining everything from the physics of jump shots, to slam dunks, lay-ups, and maybe accidentally, in its own way, why the new NBA ball was rejected beyond the fact "it didn't feel right." What are the effects of spin on the bounce? How important is proper wrist snap? How does ball velocity impact performance by a passer or shooter? The book may explain why there are terrible foul shooters and others who rarely miss.
This book is packed with what I'd call "fascinating facts which add clarity" to the game.
"An important aspect of a shot is the total time that the ball is in contact with the hand, that is, the release time. It is important to minimize the release time. Players who keep the ball in contact with the hand a very short time are said to have a quick release. Needless to say, players with a quick release are tougher to defend..."
Coaches, players, analysts and fans will find the book illuminating.
The author is also a former player and holds several still-existing scoring records at Westminster College of New Wilmington, PA. He's also a die-hard fan of the game.