More Book Reviews
Best Selling Poker Books of 2014
How did the new books compare to the old classics? Well, we will let the data speak for itself. Take a look at the list of the best selling poker books of 2014.
Deal Me In and Eat Professional Poker Players Alive Reviewed
There isn't a clear path by which people become professional poker players. There aren't any good courses at the local vo-tech for a person to study. The road to becoming a poker pro is inevitably difficult, circuitous, and filled with setbacks. Deal Me In is a book describing the course by which twenty top poker players became professionals.
Poker Winners Are Different
There is a big difference between what's typical human behavior and what is called for to play poker at a high level. There aren't a lot of people for whom maximizing their expectation in poker games comes naturally. Poker Winners Are Different by Alan Schoonmaker examines this conundrum.

One of a Kind
by Nolan Dalla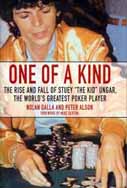 Dalla and Alson, have written a solid tribute to The World's Greatest Poker Player in a combination tribute, biography and analysis of him and what he brought to the game and how he affected the people around him. Whether he's remembered as a pure intuitive player, a gifted autistic genius or just a contrarian who loved to swim upstream, against the tide at all times, Ungar will remembered for his great skills at gin rummy (one of the most feared players in the world) and the three championships at the World Series of Poker. Illustrated and indexed, the book is a sort of roller-coaster ride through Ungar's life--his ups and downs, the highs and lows.
Read a review of One of a Kind
Often, people who are attracted to gambling -- the industry, the games and the city of Las Vegas in particular -- find themselves attracted to those people who "stood out" in history

Howard Schwartz, the "librarian for gamblers," is the marketing director for Gambler's Book Club in Las Vegas, a position he has held since 1979. Author of hundreds of articles on gambling, his weekly book reviews appear in numerous publications throughout the gaming industry. Howard's website is www.gamblersbook.com with regard to the games, the action, the money. It's a sort of "I'm on the outside looking in, but I wonder… attitude." So for those who just want to read about the survivors, the characters, the conmen, here's a recommended list with a thumbnail description of each.
Ponzi's Scheme by Michael Zuckoff ($14.95). This 2005 paperbound highlights Charles Ponzi's clever cons which netted him millions of collars a week in Boston. How? He would simply promise to double investors' money within 90 days – and he did, sort of. The "magnetic scoundrel" died in 1949 at age 66 in Brazil with $75 to his name, but the name Ponzi remains alive as the ultimate business con today.
I'll Do My Own Damn Killin' by Gary Sleeper is one of the great profiles of gambling pioneer Benny Binion. The $22 hardbound, published in 2006, has much of its focus on Binion, Herbert Noble and the (Dallas) Texas gambling wars. Indexed and illustrated, much of the action focuses on the wild 1940s and how Binion fought to come out ahead in the battle for his life and the gambling empire he'd built.
The Big Bankroll (The Life and Times of Arnold Rothstein) by Leo Katcher Originally published in 1959 and re-published in 1994, this $18 paperbound begins in 1928, the year Arnold "The Fixer" was shot in a New York hotel then works its way backwards to the past as the young, intelligent hustler establishes his reputation as a sharp gambler who may or may not have fixed the 1919 World Series and who may have caused his own demise by not paying a major gambling debt.
Of Rats and Men by John L. Smith ($25.95) is a 2003 profile of the Mayor of Las Vegas Oscar Goodman. Illustrated and indexed, it's colorful and fast-moving, from Goodman's early days in Philadelphia to defending colorful personalities like Lefty Rosenthal, Tony Spilotro, Jimmy Chagra and super handicapper Billy Walters (in the famous Computer Group trial). The hand bound book is well-indexed and packed with reference sources for future researchers.
One of a Kind (The Rise and Fall of Stuey The Kid Ungar, the World's Greatest Poker Player by Nolan Dalla and Peter Alson ($6). Yes, the price is right—Gambler's Book Shop has obtained a rare cache of the Ungar biography, which was originally published in 2005, and it's the bargain of the year. Anyone who plays poker or dreams of becoming a world-class player may know of Ungar and his untimely death in 1998. This book profiles, and backgrounds the great Ungar and his World Series of Poker triumphs, along with his relationship with friends, family, competitors and giants of the gaming industry. Perhaps some may understand what made Ungar tick, and others, after reading this book may learn how to avoid his mistakes.