More Book Reviews
Best Selling Poker Books of 2014
How did the new books compare to the old classics? Well, we will let the data speak for itself. Take a look at the list of the best selling poker books of 2014.
Deal Me In and Eat Professional Poker Players Alive Reviewed
There isn't a clear path by which people become professional poker players. There aren't any good courses at the local vo-tech for a person to study. The road to becoming a poker pro is inevitably difficult, circuitous, and filled with setbacks. Deal Me In is a book describing the course by which twenty top poker players became professionals.
Poker Winners Are Different
There is a big difference between what's typical human behavior and what is called for to play poker at a high level. There aren't a lot of people for whom maximizing their expectation in poker games comes naturally. Poker Winners Are Different by Alan Schoonmaker examines this conundrum.

Killer Sports Major League Baseball Annual
by Mti Sports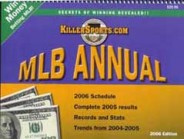 Divided into two sections, this new addition to the baseball arena starts off with articles entitled: Do Big Crowds Favor the Home Team? Three Cheers for the Defense (2006 Preview); Weather Forecast; 2005 standings and results. The second section devotes eight pages of information for each MLB team and features trends for both beginner and advanced player. The authors draw from approximately 25,000 different handicapping situations to draw out the most viable for the upcoming season. Record keeping portion allows for pitchers, opening and closing lines, final score, straight and O/U results, runs, hits, errors, homers and left on base.
One of the secrets smart baseball bettors understand is when a winning or losing streak has begun. By knowing when a team has peaked or flattened out they can intelligently shop for prices. However,

Howard Schwartz, the "librarian for gamblers," is the marketing director for Gambler's Book Club in Las Vegas, a position he has held since 1979. Author of hundreds of articles on gambling, his weekly book reviews appear in numerous publications throughout the gaming industry. Howard's website is www.gamblersbook.com
tracking a streak correctly takes patience and the ability to interpret the pattern. (Is a key player hurt or is the bullpen weary?) Thus, it behooves the player to keep records, noting schedule quirks, such a long road trip or return to a comfortable, friendly home stand occurring – and then know how to interpret those records.
The 2006 edition of Killer Sports Major League Baseball Annual (252 pages, plastic spiralbound, $29.95) is one means of recording team and individual performance. Here, not only can the bettor see the schedule (by day, date, location, whether home or away) but there's room to list both starting pitchers, the opening and closing line, final score, number of runs, hits and errors, home runs and men left on base, and additional room should you wish to add additional material about injuries, number of pitchers or whether a key error had an impact on the outcome.
There's a diagram of each team's ballpark, with average number of runs scored by the home team last year compared to opponents, and for the first time in many years, the compiler, Killer Sports (Ed Meyer) includes dozen of trends and angles under categories like Bankroll Builders, Bankroll Burners, Bankroll Booster, Top Side Trends and Top Total Trends.
Some samples: "The Indians are 21-5 over the past two seasons on the road after playing on the road and it is the first game of a series" and "New York (Mets) has not been a good investment as a home favorite over the past couple of seasons. However they have been 'money in the bank' in the first game of a series as home chalk."
The book also contains, for each team listing, the scores, totals, money line, opponent and date played for every 2005 game played, month by month.
The book includes one fascinating essay on Weather Stats, Trends and Phone Numbers, with 20 angles such as "Tim Hudson is 8-1 with a net profit of $710 when the temperature is less than 60 degrees" and "AJ Burnett is 5-0 at home with a net profit of $515 when the temperature is greater than 88 degrees."
Overall, a must-have for the bettor who sees accurate record keeping as a tool of disciplined, controlled wagering.
One final item worth mentioning for baseball is the 2006 Who's Who in Baseball (350 pages, paperbound, $9.95), which contains lifetime records of more than 750 players, including photos of each. The guide lists their birth date, where they were born, minor and major league statistics, post season play and how they moved from team to team , trade, free agency, etc.
This excellent reference source is good for fans, bettors, to settle arguments or as a nice gift item.