More Book Reviews
Best Selling Poker Books of 2014
How did the new books compare to the old classics? Well, we will let the data speak for itself. Take a look at the list of the best selling poker books of 2014.
Deal Me In and Eat Professional Poker Players Alive Reviewed
There isn't a clear path by which people become professional poker players. There aren't any good courses at the local vo-tech for a person to study. The road to becoming a poker pro is inevitably difficult, circuitous, and filled with setbacks. Deal Me In is a book describing the course by which twenty top poker players became professionals.
Poker Winners Are Different
There is a big difference between what's typical human behavior and what is called for to play poker at a high level. There aren't a lot of people for whom maximizing their expectation in poker games comes naturally. Poker Winners Are Different by Alan Schoonmaker examines this conundrum.

The Man With the $100,000 Breasts
by Michael Konik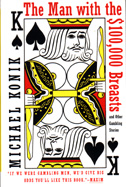 Konik is a contributor to Cigar Aficionado, Sports Illustrated, GQ, Forbes, Travel and Leisure, covering the gaming world for the trendy and upscale magazines, talking about cheats and legitimate players, interviewing professional gamblers, exposing touts, and giving readers an inside, close-up look at what it's like in the world of gambling. As for the title of this collection of articles (which appeared in some of the magazines mentioned above), Konik interviews a fearless gambler (male) who got breast implants to win a $100,000 wager.paperbound.
Michael Konik has written numerous articles about the colorful characters and events that have shaped Las Vegas and other gambling scenes. Early in 1999, Huntington Press published a collection

Nick Christenson is widely regarded as one of the best gambling book reviewers publishing today. He is a contributor for Poker Player magazine, and has published in Full-Tilt and Gambling Times. He is also the editor of the very funny 'Casino Death Watch,' which chronicles the comings and goings of casinos in Las Vegas. He is an avid poker and blackjack player. Nick's website is www.jetcafe.org/~npc/ of his work titled, The Man With the $100,000 Breasts. Late that year it was reprinted as a paperback with the same name by Broadway Books.
The book contains a total of 26 stories broken up into six sections. The sectional division isn't really very important, it's merely there to break up the book a bit. Many of these stories originally appeared in other magazines such as Sport, Maxim, and Cigar Aficionado. They're all expertly written and provide some interesting insight into their own special world. Some are better than others, but I didn't feel there were any true duds.
Some of the stories, like those about poker legend Johnny Moss, the meteoric rise and fall of craps legend Archie Karas, and the history of race handicapping legend Andrew Beyer are fairly well known, often even outside of gambling circles. Others, like the stories of the "Cold-Deck Crew" or SCA Promotions are likely not nearly as widely known. There is something here for just about anyone with a sports, gambling, or Las Vegas interest.
I've read a lot of books that are collections of gambling stories, and The Man With the $100,000 Breasts is one of the better ones. While I wouldn't rate it quite as highly as, say, Alvarez' The Biggest Game in Town, it does score well above the median. It's well worth reading by those with an interest in the topic, but I recommend purchasing the paperback version.