Swedish online casino game developers are well respected in the industry. The Swedish casino guide bastacasinobonus.se predicts that Swedish casino game developers will increase their success in 2016.
Game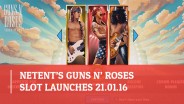 Net Entertainment releases Guns NíRoses video slot. developers compete with each other to land deals with the biggest gambling sites with the largest customer base. The gambling sites then spend huge amounts of money to promote the games and attract the players. So the players are customers to the gambling sites, and the gambling sites are customers to the game developers. As of late some of the biggest gambling sites has favored Swedish casino game developers. And it is not far fetch to say that the trend is likely to continue.
Quality casino games from Swedish game developers
When you speak of Swedish casino game developers Net Entertainment is the first to come to mind. The hugely successful company has created several of the most celebrated online casino games ever. The game that has gotten the most attention is undoubtedly Mega Fortune. Mega Fortune is known for its huge progressive jackpots that have paid out well over ten million euros multiple times to a few lucky winners. For example, a 40 year old player from Finland won €17 861 800 in January 2013 when he managed to cash in the Mega Fortune Mega Jackpot.
But it's not only the huge progressive jackpots that attract the players. Every new game from Net Entertainment is very well made and there's almost always a unique charming touch in every one of them. The most popular game every released by Net Entertainment is Starburst even though there's no huge jackpot to be won in the slot machine. The customers just don't seem to get enough of the exciting game and it's been at the top of the most popular game lists for quite some time now.
More branded slots from Net Entertainment
Dracula, The Invisible Man, South Park, Aliens, Frankenstein, Jack and the Beanstalk and Scarface are examples of branded slots developed by Net Entertainment. Most of these games have all gone to be big successes. The latest big branded slot released by Net Entertainment is Guns N' Roses video slot. Net Entertainment describes this slot as "their biggest branded game ever". Guns N' Roses are of course one of the most successful rock bands in history with over 100 million albums sold worldwide. The game allows players to set the soundtrack during gameplay. Welcome to the Jungle, Sweet Child O'Mine and Paradise City are three of the tracks featured in the Guns N'Roses video slot.
Other exciting Swedish casino game developers
There are more fantastic Swedish game developers besides Net Entertainment. One of the most interesting new Swedish casino game developers is Thunderkick. Thunderkick is a young company that exclusively develops slot games. At this moment Thunderkick has developed eleven slot games. It is very rare to see a new game developer produce such quality games as Thunderkick has done. Their games are very entertaining and it's very likely that 2016 will be a breakthrough year for the company.
Yggdrasil Gaming is another relatively new casino game developer founded by the Swedish online casino veteran Fredrik Elmqvist. Today Yggdrasil is a provider of market-leading casino games. The start of the year 2016 has been promising for Yggdrasil Gaming. On January 20 Yggdrasil released Incinerator, a slot machine featuring a fast paced avalanche reel game. Mr Elmqvist was quoted saying "we will be launching many new games in 2016 and we're very excited to bring Incinator to the market".
What to expect in 2016
The general trend is that the Internet is getting more and more mobile friendly. This is also true when it comes to casino. That's why new mobile friendly games are likely to launch during the year. The trend with branded slots will also likely continue since the customers have responded overwhelmingly well to them.
The success of the casino game developers is dependent on the casinos that carry their games to continue to gain ground. That's why Net Entertainment in particular is in a very good position because they already have several of the biggest gambling sites in the world aggressively promoting their games. For instance, the biggest poker site in the world recently launched an online casino with games licensed from Net Entertainment. With more resources coming in it should be safe to assume that their new games will top their predecessors. So our best bet is that the Swedish casino game developers, led by Net Entertainment, will continue to produce more high-quality games in 2016 and onwards with focus on mobile games and branded games.