CARSON CITY, Nevada – As reported by the Las Vegas Sun: "James Grosjean describes himself as a 'professional advantage gambler' who has written articles and a book about gambling. Now he's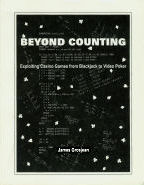 Beyond Counting is one of the books that has made Jaes Grosjean a well-known blackjack expert.
asking the Supreme Court for a jackpot.
"Grosjean is asking the court to order the Imperial Palace to pay him $150,000 for handcuffing and searching him in February 2001, and he wants permission to sue the state for the involvement of two gaming agents.
"Grosjean won a jury award in the case, but a judge lowered the judgment. His appeal goes before a panel of the Nevada Supreme Court on Tuesday.
"Grosjean's attorneys say $150,000 - half of the jury's award for punitive damages - is 'chump change' to the Imperial Palace, and they also want the right to sue the state, saying the agents acted in bad faith.
"The Imperial Palace wants the court to throw out the damages, arguing its officers were acting as agents for the state and thus share immunity from the suit with the state.
"Grosjean and his friend Michael Russo were secretly being watched by state agents on Feb. 28, 2001. The two had previously been arrested by gaming agents for allegedly cheating, although no charges were filed.
"Agents said they were watching the pair in Harrah's but lost them. An agent called the Imperial Palace, asking security officers to watch out for them.
"When Grosjean showed up at the casino, he was stopped by a security officer who handcuffed him. Grosjean was taken to a room where he was searched. Casino officials say a state agent told them to detain Grosjean, but the state denies it.
"State officials said they never wanted Grosjean to know he was being secretly watched. So the two state gaming agents posed as hotel security officers so they could get a look at the money, gaming chips, Grosjean's passport and other identification. A state agent later told casino officials to release Grosjean."