Gambling Teachers Ebook
by Gayle Mitchell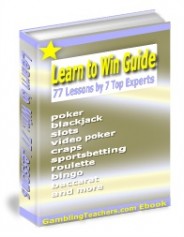 Learn to Win Guide: 77 Lessons by 7 Top Experts. 10 Program Chapters: 1) Poker-7 Games. 2) Blackjack. 3) Craps 4) Video Poker 5) Slots 6) Bingo & Keno. 7) Roulette. 8) Other Games: Baccarat & European Games. 9) Sports Betting and 10) Gambling Strategies-Tips from the GT team. Chapters 11) Online Gambling and 12) Gambling Teachers Blog, Lesson 77 completes the Guide. PDF format.


Casino Gambling : A Winner's Guide to Blackjack, Craps, Roulette, Baccarat, and Casino Poker
by Jerry Patterson

If you're planning a trip to Vegas or any other casino gambling destination and want some quick and easy-to-follow advice to give you a good shot at coming home a winner: Read Chapter 7 for blackjack advice, Chapter 13 for craps advice, Chapter 17 for roulette advice, Chapter 18 for baccarat advice or Chapter 19 for advice on the popular variations of casino poker.