The Everything Craps Strategy Book
by Larry Edell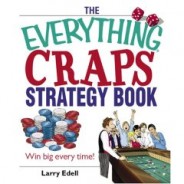 Larry Edell's Everything Craps Strategy Book is full of information for the aspiring craps player or for someone who wants to hone their craps skills. The book includes basic odds and theory overview, don't pass and don't come strategies, a discussion of betting systems, prop bet systems, and much more. Also included are sections on dice control techniques, craps tournaments, and an in-depth look at how to get complimentaries while playing craps.

Dice: Deception, Fate & Rotton Luck
by Ricky Jay
Jay rolls the history of dice in this entertaining and informative volume that takes readers from the earliest forms made from animal hooves, to those made from ivory, celluloid, and plastic. He also charts the infamous players of history, accompanied by Purcell's seductive photos. 13 photos.