More Book Reviews
Best Selling Poker Books of 2014
How did the new books compare to the old classics? Well, we will let the data speak for itself. Take a look at the list of the best selling poker books of 2014.
Deal Me In and Eat Professional Poker Players Alive Reviewed
There isn't a clear path by which people become professional poker players. There aren't any good courses at the local vo-tech for a person to study. The road to becoming a poker pro is inevitably difficult, circuitous, and filled with setbacks. Deal Me In is a book describing the course by which twenty top poker players became professionals.
Poker Winners Are Different
There is a big difference between what's typical human behavior and what is called for to play poker at a high level. There aren't a lot of people for whom maximizing their expectation in poker games comes naturally. Poker Winners Are Different by Alan Schoonmaker examines this conundrum.

RME Sports 2009 WNBA Handbook
by RME Sports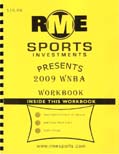 Women's pro basketball, also known as the WNBA, is, for some, a lucrative betting proposition simply because fewer people know the game and bet it. The house, the bet-takers, are sometimes off-balance in their line making, which is a very good reason why a few players reap rewards from this sport. The 2009 WNBA Workbook is the ideal publication with room to keep records (the season begins in mid-May and ends in mid-September) and that offers some help on which teams did what last season at home, away, after winning on the road, after failing to cover and so on. There are eight or so trends you might finding interesting, like how teams performed certain days or in a certain month or as a road favorite. Rosters are included listing the player's college and number of years experience in the pros and a summary of how teams performed straight up or against the spread for each of the last 3 seasons. Granted, you'll need more information to keep up with injuries, momentum and the like, but for the price, this book is a pretty good start. 32 pages, 8x11 plastic spiralbound, 2009.

Gambler's Book Shop
The Gambler's Book Shop (or Club) is the world's oldest and largest shop devoted to gambling and all its related topics. Open since 1964, The Gambler's Book Shop has thousands of books covering over 30 different areas of gambling related subjects. Besides the usual topics that include all the casino games, poker, and horse racing, you will find books about math, probabilities, biographies and novels. If you can't visit in person, you can request a copy of their FREE Catalog (CALL 1-800-522-1777) or shop online from their web site. They also offer a free monthly electronic newsletter that features new arrivals.
The Dream, The Sky, The Fever are three of the colorful nicknames for women's pro basketball teams, but the best of the best when it came to playing was the Detroit Shock, which won it all last season,

Howard Schwartz, the "librarian for gamblers," is the marketing director for Gambler's Book Club in Las Vegas, a position he has held since 1979. Author of hundreds of articles on gambling, his weekly book reviews appear in numerous publications throughout the gaming industry. Howard's website is www.gamblersbook.com
beating San Antonio's Silver Stars three straight in the finals, covering the spread easily in each game.
The WNBA season begins in early June this year, and those who follow the game will benefit by the bargained-priced
2009 WNBA Workbook
from RME (32 pages, 8x11 plastic spiralbound, $10). The book lists 13 teams with schedules and room to keep records, including spreads, totals, how each game ended straight up and against the line. Also, you can see how a team performed for the last three seasons straight up, against the spread, in over and under situations and average points scored. There's a chart for each team showing 2008 final stats indicating performance as a road dog or favorite, after a straight up win or loss and how they did against conference teams or non conference. Rosters for teams are listed (no height or weight, but number of years experience is indicated along with their college).
Somewhat helpful are Active Trends such as the fact that Detroit is 5-1 against the spread versus Western Conference teams or that Phoenix is 17-6 when playing on Friday.
The WNBA season ends in September.
Two other books of "specialized note" are
Aprende a Jugar al Poquer en Internet Con Los Pelayos
(175 pages, paper bound, $19.95), a Spanish language book on playing
hold'em
on the Internet, would be the perfect guide for Hispanics learning the game live or on the 'net.
Colorfully illustrated, the book, published in Spain, prepares players for basic play, pre- and post-flop play, the turn and the river. The book, published in 2005, discusses key areas such as how to act depending on your table position (with colorful, easy to use charts), and although the book does have a strong approach to Internet play, it should help the live-game novice improve his or her game.
Few books have ever been written on the game of Liar's Poker. John Archer wrote a beauty in 1982, titled
Liar's Poker: A Winning Strategy
(70 pages, paperbound, $4.95). The book has six major sections, including how the game is played, basic and advanced strategy, habits, mannerisms and tricks you may wish to adopt or begin to "read" of opponents' play, rules, procedures and precautions and variations of the game. The book also has a seven-page glossary of terms.
Any item reviewed here is available from Gambler's Book Shop (Gambler's Book Club). The store's web site is
www.gamblersbook.com
. You may order there using MasterCard, VISA or Discover or by phoning the store any day except Sunday from 9 a.m. to 5 p.m. Pacific time at 1-800-522-1777. Orders usually shipped the next working day. The store, now in its 45th year, is located a mile from downtown Las Vegas, a block west of Maryland Parkway, just off Charleston Boulevard at South 11th Street. You may view the store's complete array of books, videos and software via the Web site or request a hard copy of the catalog be mailed free and first class. The store's address is 630 S. 11th St., Las Vegas, NV 89101.