More Book Reviews
Best Selling Poker Books of 2014
How did the new books compare to the old classics? Well, we will let the data speak for itself. Take a look at the list of the best selling poker books of 2014.
Deal Me In and Eat Professional Poker Players Alive Reviewed
There isn't a clear path by which people become professional poker players. There aren't any good courses at the local vo-tech for a person to study. The road to becoming a poker pro is inevitably difficult, circuitous, and filled with setbacks. Deal Me In is a book describing the course by which twenty top poker players became professionals.
Poker Winners Are Different
There is a big difference between what's typical human behavior and what is called for to play poker at a high level. There aren't a lot of people for whom maximizing their expectation in poker games comes naturally. Poker Winners Are Different by Alan Schoonmaker examines this conundrum.

Weird Las Vegas and Nevada; Your Alternative Travel Guide
by Joe Oesterle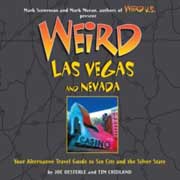 Billed as Your Alternative Travel Guide to Sin City and the Silver State, this profusely illustrated book covers local legends, ancient mysteries, bizarre beasts, and the like. Where else but Las Vegas, for example, will you find a place that names its highways after extraterrestrials, where mobsters are city fathers, and where Elvis—or a reasonable facsimile of him—hangs out on every street corner. The authors explored the Coffin House in Pahrump, NV—and made it out alive -- searched for the river of black gold; watched rocks move all by themselves at Little Bonnie Claire Playa,; and tracked down some very odd legends, like the one about the eerie dead body under the hotel mattress. A fun book for sure and a great gift for the Vegas fan. 252 pages, illustrated, hardbound, 2007.
A combination of new Las Vegas residents and new poker players creates a need for books that both inform and entertain. Filling those needs are two new titles, Poker Cheating (The 101 Most Asked Questions) by

Howard Schwartz, the "librarian for gamblers," is the marketing director for Gambler's Book Club in Las Vegas, a position he has held since 1979. Author of hundreds of articles on gambling, his weekly book reviews appear in numerous publications throughout the gaming industry. Howard's website is www.gamblersbook.com George Joseph (317 pages, paperbound, $24.95) and Weird Las Vegas and Nevada by Joe Oesterle and Tim Cridland (253 pages, hardbound, $19.95).
Joseph, a Las Vegas resident with a long history in casino surveillance, doesn't that assume new players know all the terms and potential twists and turns when it comes to hold'em or poker overall. That's what makes this book special: He does more than just "define" a term, a move or situation; he presents examples and illustrations to clarify.
Some of the most frequently asked questions (and sometimes difficult ones to explain quickly or accurately) in Joseph's book are: How much does the house rake? What is a kill game? What is a bad beat jackpot? What is a string bet? What does pot committed mean?
About midway through the book Joseph turns his attention to cheating moves, alerting players what to watch for. He explains what a strip out shuffle is and how an overhand shuffle looks, what false dealing is and why a dealer would deal the second card. Just what is a location run up and what does it mean to hop or shift a deck? He follows this with the best protection against false cuts and identifying when a cold deck might happen in play.
Included in the book is material on identifying hand muckers and how cards can be marked during play; what a stripper deck is and identifying double teaming or team play. Two final questions relate to the honesty level in Internet poker and how cheats try to operate there.
The book is excellent for players, dealers, surveillance training, to alert novices to potential pitfalls and to help answer a cluster of questions a friend or relative may have as they gain interest in poker.
Anyone planning to establish residents in Las Vegas or elsewhere in Nevada and those curious about some of the off-the-wall history facts; plus ghosts, bizarre architecture; unusual places to visit; UFO's will have a field day with this nicely-priced guidebook to the Silver State should get a copy of Weird Las Vegas and Nevada. Beautifully illustrated, easy-indexed and covering everything from Busy Siegel to Elvis, Area 51, Liberace, thrill rides, strange museums, roadside oddities and more, it's a "gee-whiz" book with class and character. It approaches this unique state like no other travel guide.
A nice coffee-table formatted book for reference, a gift or to keep the kids interested at all times.