More Book Reviews
Best Selling Poker Books of 2014
How did the new books compare to the old classics? Well, we will let the data speak for itself. Take a look at the list of the best selling poker books of 2014.
Deal Me In and Eat Professional Poker Players Alive Reviewed
There isn't a clear path by which people become professional poker players. There aren't any good courses at the local vo-tech for a person to study. The road to becoming a poker pro is inevitably difficult, circuitous, and filled with setbacks. Deal Me In is a book describing the course by which twenty top poker players became professionals.
Poker Winners Are Different
There is a big difference between what's typical human behavior and what is called for to play poker at a high level. There aren't a lot of people for whom maximizing their expectation in poker games comes naturally. Poker Winners Are Different by Alan Schoonmaker examines this conundrum.

Phil Steele's College Football Preview
by Phil Steele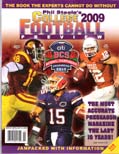 Focuses on 119 of the top college teams, offering schedules, room to keep records, betting angles (this year he shows you how they performed straight up only -- not against the line) and show five years of results and spreads. Includes projected offensive and defensive starting lineups, a valuable checklist to refer to when a key player is injured or unable to play for some reason. Shows the type of playing surface the team will be on at home or away; number of returning starters or lettermen; how the team was ranked in '06; key box score statistics from each game played. Covers the major conferences including Mountain West; MAC; Conference USA; Sun Belt, predicts and rates the potential All-Americans and top players at every position; examines the toughest conferences; most improved teams; predicts the 'surprise' teams; projects the top 40 teams; analyzes the Independents and even offers a look at the top freshmen. 328 pages, 2009.

Gambler's Book Shop
The Gambler's Book Shop (or Club) is the world's oldest and largest shop devoted to gambling and all its related topics. Open since 1964, The Gambler's Book Shop has thousands of books covering over 30 different areas of gambling related subjects. Besides the usual topics that include all the casino games, poker, and horse racing, you will find books about math, probabilities, biographies and novels. If you can't visit in person, you can request a copy of their FREE Catalog (CALL 1-800-522-1777) or shop online from their web site. They also offer a free monthly electronic newsletter that features new arrivals.
For 15 years Phil Steele's College Football Preview magazine put out by Northcoast Sports (328 pages, $8.95) has been one of the greatest values ever for those who bet college football--and it's

Howard Schwartz, the "librarian for gamblers," is the marketing director for Gambler's Book Club in Las Vegas, a position he has held since 1979. Author of hundreds of articles on gambling, his weekly book reviews appear in numerous publications throughout the gaming industry. Howard's website is www.gamblersbook.com not changed. One of the hardest working researchers in the nation, Steele has a superior reputation for evaluating teams, players, conferences, offering projected starting lineups and five years of results and spreads, for he caters to bettors, coaches and fans of the game and does it on a year-round basis.
Well, the 2009 edition has arrived and it's the annual best-seller at Gamblers' Book Shop.
What makes it so great? We can tell by looking at the features.
There are schedules for each team telling you which are homecoming games and which are on grass or turf. For almost every game there are betting angles, patterns or plays worth noting. One of the most important features is the list of how many returning lettermen and starters each team has, and how many on offense or defense.
For some, the coach's record in a variety of situation is important. Others want to know how a team did against Top 10 teams or off a bye or a loss. What about performances on grass, against the line as a dog or favorite, and who were last year's statistical leaders? Steele also shows all of last year's games with key offensive and defense statistics including sacks and turnovers.
Steele's ability to project starting lineups for each team requires an extraordinary amount of research and updating, but he does it for the offense and defense and lists top newcomers as well.
(By the way, for the college football fantasy league players out there this magazine is a must.)
Want five years of results and spreads? It's here, along with an evaluation of the toughest conferences; most improved teams; who plays the toughest schedule; top recruits and top freshmen; pass efficiency rankings and the lettermen-returning lost system.
All this information pertains to the major conferences and many independent teams.
There are a few months before the colleges begin play, but this magazine should be read, underlined, circled and devoured first and then digested gradually, like a fine meal.
Congratulations again to Steele's staff in Cleveland and elsewhere; they've performed an Oscar performance once again and every sports bettor in America should stand up and cheer.

Any item reviewed here is available from Gambler's Book Shop (Gambler's Book Club). The store's web site is www.gamblersbook.com. You may order there using MasterCard, VISA or Discover or by phoning the store any day except Sunday from 9 a.m. to 5 p.m. Pacific time at 1-800-522-1777. Orders usually shipped the next working day. The store, now in its 45th year, is located at 1550 E. Tropicana #4, 89119. You may view the store's complete array of books, videos and software via the Web site or request a hard copy of the catalog be mailed free and first class.