More Book Reviews
Best Selling Poker Books of 2014
How did the new books compare to the old classics? Well, we will let the data speak for itself. Take a look at the list of the best selling poker books of 2014.
Deal Me In and Eat Professional Poker Players Alive Reviewed
There isn't a clear path by which people become professional poker players. There aren't any good courses at the local vo-tech for a person to study. The road to becoming a poker pro is inevitably difficult, circuitous, and filled with setbacks. Deal Me In is a book describing the course by which twenty top poker players became professionals.
Poker Winners Are Different
There is a big difference between what's typical human behavior and what is called for to play poker at a high level. There aren't a lot of people for whom maximizing their expectation in poker games comes naturally. Poker Winners Are Different by Alan Schoonmaker examines this conundrum.

Check-raising The Devil
by Mike` Matusow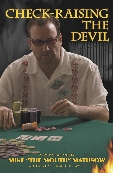 Mention Mike Matusow to poker players who watch televised tournaments and you're likely going to get one of two reactions. neither of which is on the fence. He appears to be brash, selfish, arrogant, disruptive, snide, clever, deceptive and a bunch of other adjectives. And he is all that. And all those characteristics make him one of the best tournament players on the circuit. But until this autobiography, few people understood what makes The Mouth what he is. Here he takes you through the stages of his life from trailer park to a lifestyle enjoyed by only a few of the wealthiest people in the world, and explains how he overcame addictions by learning to understand his two debilitating mental illnesses. While you won't learn much about poker here, you will understand what makes this poker player tick. 267 pages, hardbound, 2009

Gambler's Book Shop
The Gambler's Book Shop (or Club) is the world's oldest and largest shop devoted to gambling and all its related topics. Open since 1964, The Gambler's Book Shop has thousands of books covering over 30 different areas of gambling related subjects. Besides the usual topics that include all the casino games, poker, and horse racing, you will find books about math, probabilities, biographies and novels. If you can't visit in person, you can request a copy of their FREE Catalog (CALL 1-800-522-1777) or shop online from their web site. They also offer a free monthly electronic newsletter that features new arrivals.
Few ex-priests, rabbis or academic geniuses have made it big in cut-throat
poker tournaments
and cash games over an extended period of time. Some might have risen to the top but the nature

Howard Schwartz, the "librarian for gamblers," is the marketing director for Gambler's Book Club in Las Vegas, a position he has held since 1979. Author of hundreds of articles on gambling, his weekly book reviews appear in numerous publications throughout the gaming industry. Howard's website is www.gamblersbook.com
of the game doesn't fit that mode. Mike (The Mouth) Matusow bio clearly shows what this world is made of. Matusow is one colorful rebel whose rocky, controversial lifestyle proves you can avoid hitting rock bottom yet, with the help of friends and family, fight your way back to the top with class and respect and be among the best.
Check-Raising the Devil,
his autobiography (258 pages, hardbound, $24.95) is an eye-opening look at Matusow's life. Written with Amy Calistri and Tim Lavalli, the book reads like the Rocky Graziano boxing movie title Someone Up There Likes Me. It's a gritty story about a guy who made more than a dozen final tables at the
World Series of Poker
(he won three championship bracelets), who "danced with the devil" (drugs, wild women and a lot of out of control friends) and who learned many lessons -- some at the card tables and others about life -- the hard way.
How much of the book is keyed to how to get the money (winning)? More than you'd expect. Overall, it's about a lot of things, including relationships -- those players he respects and why -- and about the sometimes deadly grind on the lucrative tournament trail.
There's no index to this book -- it would have helped, along with some photos of Matusow in the early days compared to today. People are curious when it comes to biographies and autobiographies and early photos often add more than text ever can.
Matusow pays homage in some ways to those players who influenced him. For example, he has a good deal of respect for Erik Seidel, who had the insight to recognize the true, long-term economic impact of Chris Moneymaker's captivating
WSOP
win on TV.
Matusow like the boxer Graziano, did some jail time. He writes about drugs, getting busted, betrayals, friends and enemies.
Perhaps one of the strengths of the book is a raw sense of self-awakening. As Matusow ages (he's been playing the game almost 20 years now) he has begun to recognize true life values, what poker has to offer and how the game affects mind, body and money. One of the more interesting and valuable sections focuses on the "grind" or the toll of playing in too many
tournaments
for too many days in too many distant places. It's hard to believe, but he says between 2000 and 2003, there were hard financial times not only for him, but for fellow pros Erick Lindgren and Daniel Negreanu. He calls it "struggling with our bankrolls."
Matusow admits he lost big in online poker. It impacted his self-confidence. He now understands why. (He describes it on page 228.) I'd like to know more. So would others because it involved cheating and former
WSOP
(l994) champion Russ Hamilton, where millions of dollars had to be refunded. You can almost sense the book editors struggled with this; they couldn't ignore it, but a lot of people would like to know who lost how much and what amount was refunded. Matusow says no one will do time for all the cheating. So far he's right.
Overall, this book has value. It has the potential to warn a future generation of players about the pitfalls of too much too soon, of the value of money, the dangers of drug use and how he pulled out of a dangerous, out of control tailspin and with help, landed safely.
Any item reviewed here is available from Gambler's Book Shop. The store's web site is
www.gamblersbook.com
. You may order there using MasterCard, VISA or Discover or by phoning the store any day except Saturday and Sunday from 9 a.m. to 5 p.m. Pacific time at 1-800-522-1777. Orders usually shipped the next working day. The store, now in its 45th year, is located a mile from downtown Las Vegas, a block west of Maryland Parkway, just off Charleston Boulevard at South 11th Street. In June, 2009, it will be in a new location at 1500 E. Tropicana Avenue Suite #4. You may view the store's complete array of books, videos and software via the web site.