More Book Reviews
Best Selling Poker Books of 2014
How did the new books compare to the old classics? Well, we will let the data speak for itself. Take a look at the list of the best selling poker books of 2014.
Deal Me In and Eat Professional Poker Players Alive Reviewed
There isn't a clear path by which people become professional poker players. There aren't any good courses at the local vo-tech for a person to study. The road to becoming a poker pro is inevitably difficult, circuitous, and filled with setbacks. Deal Me In is a book describing the course by which twenty top poker players became professionals.
Poker Winners Are Different
There is a big difference between what's typical human behavior and what is called for to play poker at a high level. There aren't a lot of people for whom maximizing their expectation in poker games comes naturally. Poker Winners Are Different by Alan Schoonmaker examines this conundrum.

Harrington on Cash Games: Vol. 1 and Vol. 2
by Dan Harrington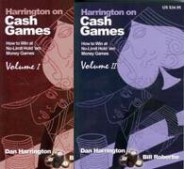 Dan Harrington begins his insight into success at cash games in Volume 1 with chapters that look basic ideas such as the four principles: expectation, odds and outs, bet types before moving on to the Elements of No-Limit Hold'em and covering stack sizes in relation to hand selection, bet count tables, pot size and pot commitment. Also hand reading. The third major section of the book includes tight-aggressive play before the flop. That's followed by the same concept on the flop, heads-up, then multiple opponents. Volume 2 continues with chapters that look at tight aggressive play on the turn, tight aggressive play on the river, tells and observations, playing a style that's loose-aggressive and beating the weak games, bankroll management. Each chapter covers myriad topics such as reasons for betting, balancing bet size, bluffing, leverage, understanding where you stand, playing live games, disguising your play, picking up blinds, applying pressure.