More Book Reviews
Best Selling Poker Books of 2014
How did the new books compare to the old classics? Well, we will let the data speak for itself. Take a look at the list of the best selling poker books of 2014.
Deal Me In and Eat Professional Poker Players Alive Reviewed
There isn't a clear path by which people become professional poker players. There aren't any good courses at the local vo-tech for a person to study. The road to becoming a poker pro is inevitably difficult, circuitous, and filled with setbacks. Deal Me In is a book describing the course by which twenty top poker players became professionals.
Poker Winners Are Different
There is a big difference between what's typical human behavior and what is called for to play poker at a high level. There aren't a lot of people for whom maximizing their expectation in poker games comes naturally. Poker Winners Are Different by Alan Schoonmaker examines this conundrum.

Betting Baseball 2009
by Michael Murray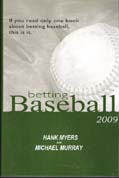 Murray, an admirer of the legendary Sabermetrics genius Bill James, says about betting baseball, '... it can be the most profitable game out there.' He understands the important of analyzing statistics and explains it well. He looks at the money line; follows with the run line. The section on totals looks at two seasons and what the key numbers were and how often they were landed on. He answers questions such as: How does one measure offense? How much weight do we give to pitching and what three categories does a pitcher have complete control over (strikeouts, walks and home runs allowed)? Can one measure consistency in starters and what about injuries? How does a bettor factor items like number of innings pitched? And he dissects and examines unique areas like wind, temperature, humidity and overall individual ballpark effects to help totals bettors be more disciplined. Explains how to create your own baseball line. For those who believe umpires play a key role in determining number of runs scored in a game because of individual quirks or interpretation of the strike zone, Murray also explains Ques-Tec (a computerized technique to help 'standardize the strike zone'). A special section on umpires discusses Umpire Rotation; Adjusting Your Totals; Home Umpires; Rating Umpires by name and performance; and Over-Under Results for Each Umpire. Revised to include the 2006 season's information. 216 pages, paperbound, 2009.

Gambler's Book Shop
The Gambler's Book Shop (or Club) is the world's oldest and largest shop devoted to gambling and all its related topics. Open since 1964, The Gambler's Book Shop has thousands of books covering over 30 different areas of gambling related subjects. Besides the usual topics that include all the casino games, poker, and horse racing, you will find books about math, probabilities, biographies and novels. If you can't visit in person, you can request a copy of their FREE Catalog (CALL 1-800-522-1777) or shop online from their web site. They also offer a free monthly electronic newsletter that features new arrivals.
Baseball bettors seeking data, angles and ideas for the 2009 baseball season can do no better than Betting Baseball by Hank Myers and Michael Murray (216 pages, paper bound, $24.95). Even if you've

Howard Schwartz, the "librarian for gamblers," is the marketing director for Gambler's Book Club in Las Vegas, a position he has held since 1979. Author of hundreds of articles on gambling, his weekly book reviews appear in numerous publications throughout the gaming industry. Howard's website is www.gamblersbook.com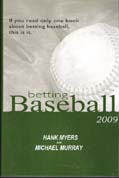 bought the book in the past, you still need the 2009 edition, since a major portion of the work has been updated. Case in point: The Umpire Scouting Report and Ballpark Statistics. Many old-time bettors knew certain umpires had an impact on the number of runs scored in a game but it was a well-kept secret. Murray (and a few others) opened the floodgates of information and here, in 75 pages, he profiles almost every umpire who was in action last season, and looks back at previous seasons for patterns.

Why is the umpire important? Simply, each umpire sees the strike zone differently, no matter how the rules define it. They interpret the "zone" differently. Some are categorized as "homers" (they enjoy cheers, not jeers from the home crowd), others offer wider strike zones than their peers, and some who are quicker to eject players than others.

The book lists over-under umpires, explains the rotation of the umpires and alerts bettors about those who have a dislike for a particular manager or who may be arrogant or confrontational. In short, you may learn more about how umpires can influence the number of runs to be scored in a game from this book than any other.

Not only do an umpire's "characteristics" impact a game, but other factors also influence the outcome, factors such as individual ballpark makeup, the time of the year (when the weather heats up for example, the number of runs increase including homers), "pitcher parks," and so on.

Also in the book is information on how teams do month by month in scoring plus, where will it get windy and which batters, lefties or righties, will improve at the plate.

Beyond that, the book has additional information that may well increase a bettor's bottom line. It is packed with vital betting material such as how to make your own baseball line, how to determine the overall strength of a bullpen, and how to evaluate starters based on earned run average and the strikeouts vs. walks ratio. It looks at how handicappers should measure offense, determine home field advantage and how to ride a streaking team.

There's a nice money management section, a smart way to bet totals, a comparison of the money line to the run line, and information about which teams, over the past few years, made money for bettors as favorites or underdogs.

Overall, this is the best book for betting the game I've seen in years and ranks among the finest efforts of the past few betting generations. It should be read before regular season action begins.