The Ultimate Casino Guide: 1000 Great Casinos from America, Canada and Around the World
by Michael Wiesenberg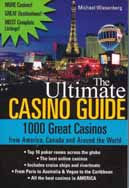 This is a complete directory of the finest casinos from around the world. Tokyo, Las Vegas, Eastern Europe, the Caribbean — and wherever else the winds of chance may blow — this exciting guide gives travelers all of the information they need about any casino in or around their travel destination.

The Official Dictionary of Poker
by Michael Wiesenberg

Completely updated and revised, this edition contains the entire spectrum of poker terminology, from the common ('Texas hold 'em') to the obscure ('Dewey Duck'), illustrated by thousands of colorful examples actually heard in cardrooms. If you've ever wondered about the correct way to use a poker term or were bewildered by what your poker-playing cohorts were saying, here's the one book that explains it all. You will find The Official Dictionary of Poker valuable as a reference; you will return to it frequently as a fun read.

Free Money: How to Win in the Cardrooms of California
by Michael Wiesenberg

Advice, strategy and rules, and strategies for winning at high draw and lowball, written when these games were played exclusively in California's cardrooms. This is the only book you can buy that accurately covers both forms of draw in detail.

Michael Wiesenberg made his living playing poker for 10 years before turning to a career as technical writer in the computer field. His books reflect those two careers:
The Official Dictionary of Poker
,
Puzzled Programmers
(a collection of short stories, each of which introduces a mathematical puzzle best solved by computer, with solutions presented in three programming languages), and
Free Money: How to Win in the Cardrooms of California
. He was a
Card Player
magazine columnist from 1988 to 2015.
According to "Mad Genius of Poker" Mike Caro, "Wiesenberg ranks among today's most prolific and respected poker authorities."
For several years, Wiesenberg edited Card Player's twice-monthly email newsletters, sent to over 300,000 subscribers, and was the Web content editor for CardPlayer.com. He has had regular columns in and contributed hundreds of articles to noted computer, gambling, and poker magazines. He has edited several books about poker by well-known authors.
He wrote the rules sections and created many of the informational pages for three online poker sites.