LOS ANGELES -- CBS Sports announced today a two-season commitment to broadcast the ULTIMATE BLACKJACK TOUR as complementary programming to its fall sports lineup.
CBS Sports will broadcast the first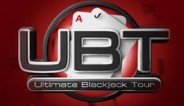 Ultimate Blackjack Tour to be filmed at Palms in 2007.
of ten ULTIMATE BLACKJACK TOUR programs on Saturday, Sept. 16 (2:00 PM, ET). Additionally CBS Sports has committed to broadcasting a second season beginning in Spring 2007.
THE ULTIMATE BLACKJACK TOUR, founded by world-renowned gaming expert Russ Hamilton, is a special series of Elimination Blackjack(TM) tournaments with a unique patent-pending format that gives the "average Joe" a chance to play alongside the best players in the world such as World Blackjack Champion
Ken Einiger
, as well as poker champions like Phil Hellmuth, Johnny Chan, and Annie Duke.
"This special Elimination Blackjack(TM) is a unique format that should create excitement for the viewers," said Rob Correa, Senior Vice President Programming, CBS Sports. "We feel this will be a great companion to our existing Saturday afternoon lineup."
"CBS is the perfect partner for this venture," said UBT executive producer, Houston Curtis. "After meeting with the top broadcast and cable outlets in the country, we consider it the ultimate validation of our concept to be associated with one of the world's foremost leaders in sports programming."
The deal with CBS Sports foreshadows big things for the UBT as Blackjack is already a significantly more popular game than poker in the U.S. and worldwide. "Poker has gone crazy," said Hellmuth, a nine-time
WSOP
Champion. "Now you have another tournament game of skill. The UBT is going to be huge."
The special, patent-pending "elimination" format contains "forced eliminations," "secret bets," and, for the first time, reveals the dealer's hole card to the audience. These elements combine to add a heightened sense of drama that's unlike anything the genre has ever seen. "The UBT has figured out how to make blackjack exciting for television and I'm absolutely hooked," said poker champion Duke. "It was a blast to play and equally exciting to watch."
UBT producers invited more than 100 of the world's top card players to compete in Las Vegas for a chance to play in one of seven "Final Table" championship events in Los Angeles and win a share of over one million dollars in prize money. The seven championship programs, along with two special programs -- the "Legends of Blackjack" and the "Ladies of Blackjack" -- plus the "UBT Tournament of Champions" were shot at CBS Television City.
The second season will follow a defined worldwide tour schedule and be open to the public. Additionally, players will be able to compete for a seat at each event's final table by playing in free Elimination Blackjack(TM) competitions on the ULTIMATE BLACKJACK TOUR's official website, PLAYUBT.COM. The site will also provide Elimination Blackjack(TM) playing tips and in-depth analysis of the televised events.
In an effort to generate massive awareness about the Tour and enhance the standard slotting of network promos, UBT Chief Marketing Officer Larry Kopald said that discussions are underway with major sponsors and promotional partners in preparation for a national media blitz scheduled to coincide with the launch of the series on September 16.
The UBT is produced by Blackjack Entertainment, headed by executive producers Houston Curtis of Big Vision Entertainment and top entertainment attorney, Jon Moonves. Also serving as executive producers are Sam Korkis and Mark Ganshirt of Red 23 Entertainment.
Ultimate Blackjack Tour
The official website for the Ultimate Blackjack Tour gives you a peek at the excitement behind this new show. The Tour programs will be shown on CBS beginning in September of 2006.