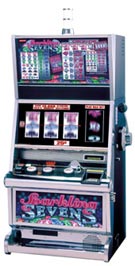 Payout Range - 86-98%, 7 spins.
The unique feature of this Advantage Series slot is that the fourth reel is a bonus screen with symbols on the screen applying to any winning combo on the three primary

Gayle Mitchell is the most recognized female expert of casino gambling and has written extensively and presented seminars about casino gambling since 1996. She is the author of the Casino Gambling Made Easier series of books, numerous E-Books, booklets and the Slots Trilogy. She is also the editor of five online gaming newsletters including Casino Players Ezine. Gayle's website is www.easycasinogambling.com reels when max coins are in play. Sparkling Sevens displays a basic pay schedule that include four 7 combos, one bar combo and a mixture of diamond symbols. The bonus-booster fourth reel has jackpot multipliers of 2X, 5X and 10X, a ReSpin bonus and a question mark for a mystery credit amount. The ReSpin ignites the primary reels to spin again with a possibility of up to 5 winning combinations added to your total credits. A Mystery spin can grab up to 500 coins. The Sparkling top jackpot, sure to ing a sparkling smile, of 10,000 coins is yours when you line up three pink 7's and a 10X symbol on the bonus screen.
You can play Sparkling Sevens in Indian casinos in California, Kansas, Michigan, Mississippi, New Mexico, Oregon and Wisconsin. You can also play them in Iowa and Louisiana.
Konami Gaming
585 Trade Center Drive
Las Vegas, NV 89118