Slots Operations: The Math & the Myth
by Rich Lehman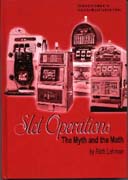 This book covers all of the necessary aspects for a successful slots operation. Such diverse topics as staffing, development, policies, procedures, analysis and strategy are used to explain the complexities of slot management. The ever increasing importance of slots in today's casinos, this book will provide important information for anyone involved in a casino.

The Slot Machine Answer Book
by John Grochowski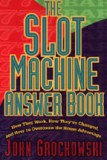 Newly revised for 2005, The Slot Machine Answer Book sold out of its original printing in 1999. Grochowski takes his quiz format to the slots. What was the first three-reel slot machine? Where do reel symbols such as bars and fruits, still in use today, come from? If someone has just hit a jackpot, is that a machine to avoid? Are there ever situations in which players can gain an edge on the slots? All that, and much more, is covered.