Robbing the One-Armed Bandits
by Charles Lund

This is a plain no-nonsense cookbook about getting money out of some, but not all, slot machines. Most of your time in a casino will be spent looking for valuable slot machines. Playing will only take a few minutes. The book covers 49 different slots, banking ones. The 1999 Supplement...covers 15 more slot machines.

Slots Operations: The Math & the Myth
by Rich Lehman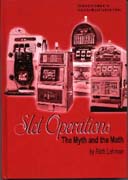 This book covers all of the necessary aspects for a successful slots operation. Such diverse topics as staffing, development, policies, procedures, analysis and strategy are used to explain the complexities of slot management. The ever increasing importance of slots in today's casinos, this book will provide important information for anyone involved in a casino.