Smarter Bet Guide to Slots and Video Poker
by Basil Nestor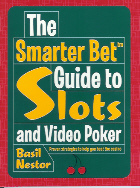 A pocket-sized book that provides a clear-cut explanation of payback comparisons, progressive jackpots and how to evaluate them, video poker strategy tables, and other mathematically derived techniques to lower the casino advantage.

The Slot Machine Answer Book
by John Grochowski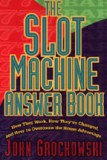 Newly revised for 2005, The Slot Machine Answer Book sold out of its original printing in 1999. Grochowski takes his quiz format to the slots. What was the first three-reel slot machine? Where do reel symbols such as bars and fruits, still in use today, come from? If someone has just hit a jackpot, is that a machine to avoid? Are there ever situations in which players can gain an edge on the slots? All that, and much more, is covered.