Gambling Teachers Ebook
by Gayle Mitchell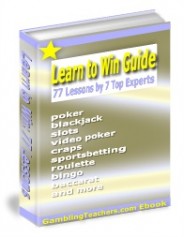 Learn to Win Guide: 77 Lessons by 7 Top Experts. 10 Program Chapters: 1) Poker-7 Games. 2) Blackjack. 3) Craps 4) Video Poker 5) Slots 6) Bingo & Keno. 7) Roulette. 8) Other Games: Baccarat & European Games. 9) Sports Betting and 10) Gambling Strategies-Tips from the GT team. Chapters 11) Online Gambling and 12) Gambling Teachers Blog, Lesson 77 completes the Guide. PDF format.


Slots Operations: The Math & the Myth
by Rich Lehman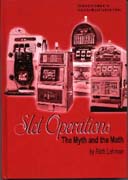 This book covers all of the necessary aspects for a successful slots operation. Such diverse topics as staffing, development, policies, procedures, analysis and strategy are used to explain the complexities of slot management. The ever increasing importance of slots in today's casinos, this book will provide important information for anyone involved in a casino.