Slot Machines: America's Favorite Gaming Device
by Marshall Fey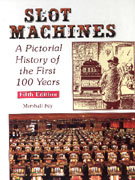 The complete and colorful story of coin-operated chance machines from the time they first became prevalent in the early 1890's up to the slot machines operated in today's casinos. Included in the exciting drama of this major industry are the pioneer, inventors, manufacturers, operators and the numerous raids that plagued the industry. This book has been used as a source book worldwide, including television documentaries.

Gambling Teachers Ebook
by Gayle Mitchell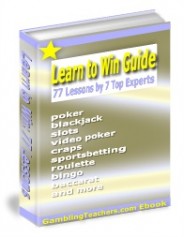 Learn to Win Guide: 77 Lessons by 7 Top Experts. 10 Program Chapters: 1) Poker-7 Games. 2) Blackjack. 3) Craps 4) Video Poker 5) Slots 6) Bingo & Keno. 7) Roulette. 8) Other Games: Baccarat & European Games. 9) Sports Betting and 10) Gambling Strategies-Tips from the GT team. Chapters 11) Online Gambling and 12) Gambling Teachers Blog, Lesson 77 completes the Guide. PDF format.