Smarter Bet Guide to Slots and Video Poker
by Basil Nestor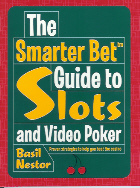 A pocket-sized book that provides a clear-cut explanation of payback comparisons, progressive jackpots and how to evaluate them, video poker strategy tables, and other mathematically derived techniques to lower the casino advantage.

Slot Machines: America's Favorite Gaming Device
by Marshall Fey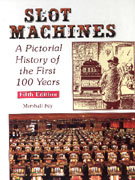 The complete and colorful story of coin-operated chance machines from the time they first became prevalent in the early 1890's up to the slot machines operated in today's casinos. Included in the exciting drama of this major industry are the pioneer, inventors, manufacturers, operators and the numerous raids that plagued the industry. This book has been used as a source book worldwide, including television documentaries.