Is it possible to have too much fun playing slots? Yes, with the festive Party Line slot amid balloons, streamers, party hats, smooth sounds and a glass of bubbly.
Dance your way into the party scene,

Gayle Mitchell is the most recognized female expert of casino gambling and has written extensively and presented seminars about casino gambling since 1996. She is the author of the Casino Gambling Made Easier series of books, numerous E-Books, booklets and the Slots Trilogy. She is also the editor of five online gaming newsletters including Casino Players Ezine. Gayle's website is www.easycasinogambling.com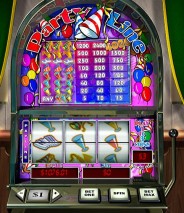 It's Party Time with Party Line Slots! spin those reels and listen for the frequent sound of "It's Party Time" for any win.
You can party-hardy with the top bonus prize of three party hats and a max. bet payout of 4000X.
This 3-coin single payline slot from Playtech also offers a 1200X and 2400X your selected denomination payout for three party hats at 1-coin and 2-coin bets.
No party is complete without the sweet sounds of music and three saxophones presents a generous second prize of 750X with max bet in play.
Other party items are a piano keyboard, radio and colorful champagne glasses in red, blue and yellow. Spin any three glasses of bubbly on the center payline and you receive a 15X pay for max bet.
Strategy Tip: Maximum coin bet play would provide greater returns and benefits with this slot version.
Another consideration is that payouts are based on the denomination selected for play. There are several options available: nickels, dimes, quarters, half-dollar, dollar plus two and five dollars. Party On, my slot-playing friends.
Playtech
15 Themistocle Dervis Street
Nicosia
Cyprus
Phone: +972 361 399 90
Fax: +972 361 399 89
Email:
info@playtech.com
Website: www.playtech.com
Playtech is one of the leading gambling software manufacturers in the online gambling world and is the software of choice for many well-known and popular online casinos. Founded in 1999, Playtech has over 250 personnel distributed globally, around eighty percent of whom are engaged in research and development of current and future gaming technologies.