Slot manufacturers are hip to the appeal of Halloween slots. IGT brought out the Elvira slot a few years back. Online slot manufacturer
Microgaming
has a game called Halloweenies and both
Playtech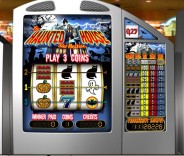 Boss Media's Haunted House is a popular online progressive.
and Boss Media have a slot called Haunted House.
With all those omens and symbols the idea of good and bad luck is a big part of Halloween. You're not going to find a Christmas-themed slot anytime soon, but Halloween is fair game.
Boss Media's Haunted House is a progressive slot with all the expected Halloween symbols; bats, black cats, jack 'o' lanterns and ghosts. They've also thrown in a triple bars and sevens to give it that classic slot flavor.
The key to getting treats versus tricks is to line up three ghostly Ghosts with three coins in. Open up your sack and pour in the progressive jackpot. Boo!
Boss Media
PO Box 3243
Sweden
Phone: +46 470 70 30 00
Fax: +46 470 70 30 50
Email:
info@bossmedia.se
Website: www.bossmedia.com
Boss Media, based in Sweden, is a creator of e-gaming software and solutions. The company provides a variety of attractive interactive games. Software is designed for Internet-enabled PCs, mobile phones, and handheld computers as well as interactive digital television or state-of-the-art Interactive Video Terminal (IVT) systems.