Harrington on Cash Games: Vol. 1 and Vol. 2
by Dan Harrington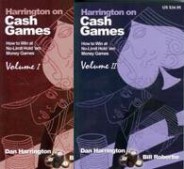 Dan Harrington begins his insight into success at cash games in Volume 1 with chapters that look basic ideas such as the four principles: expectation, odds and outs, bet types before moving on to the Elements of No-Limit Hold'em and covering stack sizes in relation to hand selection, bet count tables, pot size and pot commitment. Also hand reading. The third major section of the book includes tight-aggressive play before the flop. That's followed by the same concept on the flop, heads-up, then multiple opponents. Volume 2 continues with chapters that look at tight aggressive play on the turn, tight aggressive play on the river, tells and observations, playing a style that's loose-aggressive and beating the weak games, bankroll management. Each chapter covers myriad topics such as reasons for betting, balancing bet size, bluffing, leverage, understanding where you stand, playing live games, disguising your play, picking up blinds, applying pressure.

World Series of Poker Official Site
The World Series of Poker has been the premier poker tournament in the world ever since it was launched by Benny Binion at the Horseshoe in downtown Las Vegas in 1970. Harrah's bought the rights to the tournament in 2004 and has moved the action to the Rio. The official site shows the circuit schedule leading up to the big event held in the summer. There is also a registration section and a WSOP store.