Event #30: $2,500 Pot-Limit Omaha
Highlights:
1. J.C. Tran Wins His Second WSOP Gold Bracelet
The Winner --
· The 2009 World Series of Poker $2,500 buy-in Pot-Limit Omaha champion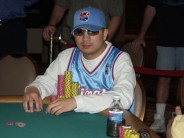 J.C. Tran takes home his second Gold Bracelet at the 2009 WSOP Event 30 is J.C. Tran, from Sacramento, CA.
· Tran was born in Vietnam. He arrived in the United States at the age of three.
· Tran is one of eight children.
· Tran is 32-years-old. He is a professional poker player who excels in both tournaments and cash games.
· Tran graduated from Sacramento State University. He earned his degree in Business Management.
· Tran is known for wearing hats and jerseys from sports teams he supports. He has worn Sacramento Kings (NBA) jerseys regularly during most of his poker career.
· Tran collected $235,685 for first place. He was also awarded his second WSOP gold bracelet.
· Tran's first WSOP win came last year. He won one of the $1,500 No-Limit Hold'em events, which paid $631,170.
· According to the official records, Tran now has 2 wins, 8 final table appearances, and 27 in-the-money finishes at the WSOP.
· Tran currently has $1,653,992 in WSOP winnings.
· Tran is best known as an expert Hold'em player. This was his first tournament win in any game other than Hold'em.
· Tran wore the exact same baseball cap at the final table that he wore when he won his gold bracelet last year. The hat is unusual because it has an apparent defect. The hat is a New York Yankees team cap, with the "Y" upside down. Tran explained that the cap is rare and he has only worn it during his two WSOP gold bracelet wins.
Winner Quotes (J.C. Tran) --
· On if his previous win (last year) helped him to win a second gold bracelet: "Yes, definitely. Getting that first bracelet out of the way takes a lot of pressure off you. I definitely would not want to finish second here. It's a horrible feeling. But the win last year meant the pressure was off. I was more comfortable and more relaxed when I cam in. My head was clear. I was not too worried about trying to win. Just play poker and let it come to me, instead of forcing it. And, it came to me."
· On winning a Pot-Limit Omaha bracelet after winning in No-Limit Hold'em last year: "It means a lot. I learned to play PLO less than two years ago. I play the biggest stakes. I had some swings. PLO is the kind of game where you always have room to learn. Even after I win this bracelet, I still feel I have a lot to learn. Being able to win a non-Hold'em event (most of my victories are in Hold'em, and I have never even won any tournament outside of Hold'em – this was my first), it goes to show that I can play a game outside of Hold'em. I would like to learn mixed games in the future, as I know how to play them, but I do not know enough to sit down in a big buy-in game. But this helps."
· On having several notable poker players as friends who supported Tran at the final table: "I am one of the few guys who has one of the biggest groups of friends in poker, just because we pick and chose the good guys from the bad guys – who is truly here to support you for your win, and not for the money. By them being here to watch me, that support means a lot. I am happy that I won. But I am also happy for them. The other day when I was watching Steve (Sung) win a bracelet, I felt like I was winning a bracelet. It motivates me to go out and do well when I see a friend of mine do well. So, I hope it motivates these guys to go well."
· On playing against some of his friends in this and other tournaments: "It's sad to bust-out your friend. But there is only one bracelet. We are here to win."
· On his futures goal and expectations for winning more WSOP events: "Right now, I am just thinking about number three. I think I have the potential to win one per year, for however long my career goes."
· On his feelings about the gold bracelet ceremony to be held the following day: "Yes, I have thought about it. When they presented the winner with the gold bracelet today (from a previous event), I was standing right here thinking to myself that I wanted to be up there. That right there made it more important to me to win this bracelet. I will be up there with the National Anthem with all my friends and all my peers looking up. I think it's pretty cool."
The Final Table --
· The final table contained four former WSOP gold bracelet winners – John Juanda (4 wins), Rami Boukai (1 win), Theo Jorgensen (1 win), and J.C. Tran (1 in prior to start).
· The final table included players who were born in seven different nations -- including Denmark, England (2), France, Indonesia, Saudi Arabia, the United States (2), and Vietnam.
· The runner up was Jeff Kimber, from Newcastle, England. The former sports journalist-turned-poker pro won the "World Heads-Up Championship" held in Barcelona, Spain in 2007.
· The third-place finisher was Jean-Philippe Leandri, from Paris, France. He is the Director of Operations for a Casino in Paris. This was Leandri's best WSOP finish ever.
· The fourth-place finisher was Ross Boatman, from Hendon (London), England. Boatman is a member of the famed "Hendon Mob" poker group, aptly named for their East London roots. Boatman now has 12 in-the-money finishes at the WSOP, dating back to 2002.
· The fifth-place finisher was Dallas E. Flowers, from Glasgow, KY. He is a poker pro making his first cash at the WSOP.
· The sixth-place finisher was Rami Boukai, from San Diego, CA. He won his WSOP gold bracelet a week ago in the $2,500 buy-in Pot-Limit Hold'em and Pot-Limit Omaha Mix.
· The seventh-place finisher was Chad Layne, and insurance broker from Las Vegas. This was his eighth WSOP cash.
· The eighth-place finisher was Theo Jorgensen, from Copenhagen, Denmark. Jorgensen earned his victory at last year's Pot-Limit Omaha championship held at WSOP-Europe.
· The ninth-place finisher was John Juanda, from Las Vegas, NV. His bid for a fifth WSOP gold bracelet fell way short. This was Juanda's third trip to a final table at this year's WSOP.
In-the-Money Finishers --
· Former WSOP gold bracelet finishers who cashed in this event included – J.C. Tran, Theo Jorgensen, John Juanda, Rami Boukai, Phil Ivey, David Chiu, and Eli Elezra.
· With this cash, John Juanda now has 48 career in-the-money finishes at the WSOP. He is currently ranked eighth on the all-time list, tied with Brent Carter.
· The defending champion from 2009 was Layne Flack, who won the comparable event last year in this game and entry class. Flack did not enter this tournament. Note: Flack won last year's $1,500 buy-in Pot-Limit Omaha event with re-buys. There are no re-buys this year, and the entry fee was raised to $2,500.
Odds and Ends --
· The $2,500 buy-in Pot-Limit Omaha event attracted 436 entries, up from last year's comparable event. In 2008, there were only 320 entries (even though the entry fee was only $1,500).
· This is the 19th of 30 tournaments thus far, with greater than a $1 million prize pool.
· Pot-Limit Omaha made its WSOP debut in 1984. The first Pot-Limit Omaha gold bracelet winner was Dewey Tomko, who was inducted into the Poker Hall of Fame in the Class of 2008.
· Bluff Media and ESPN 360 provided a live broadcast of the final table. Fourteen more events are scheduled, which are split between ESPN 360 and Bluff Media. For a complete broadcast schedule of all events, go to:
www.worldseriesofpoker.com/tourney/tourneydetails.asp?groupID=607
· The official WSOP gold bracelet ceremony takes place on the day following the winner's victory. The ceremony takes place on at center stage of the main tournament room and begins during the break of the noon tournament. The ceremony usually starts around 2:20 pm. The national anthem of the winner's nation is played. The entire presentation is open to public and media. Video and photography is permitted by both media and the public.
The Event --
· The $2,500 buy-in Pot-Limit Omaha event attracted 436 entries. The total prize pool amounted to $1,002,800. The top 45 finishers collected prize money.
· The tournament was played over three consecutive days.
· J.C. Tran was the chip leader at the End of Day One.
· Ross Boatman was the chip leader coming into the final table.
· Two former WSOP winners, John Juanda and Theo Jorgensen were the first two players to exit. This gave Tran somewhat of an advantage as the most experienced player remaining at the table.
· When final table play began, Tran had about an average stack. He was ranked fifth of nine players. Tran took over the chip lead when play became four-handed and never lost it from that point forward.
· Tran personally eliminated five of his eight opponents in the finale.
· The final hand of the tournament came when Tran made a full house and scooped the last pot of the night. His opponent Jeff Kimber started with 6-4-4-3. Tran started with K-Q-8-8. All of Kimber's remaining chips went into the pot after the flop. The final board showed 9-7-7-8-3, giving Tran a full house with eights over sevens and the victory.
· The tournament officially began on Sunday, June 14th, at 12 noon. The tournament officially ended on Tuesday, June 16th, at 9:45 pm.
WSOP Statistics –
· Through the conclusion of Event #30, the 2009 WSOP has attracted 29,653 entries. $58,535,638 in total prize money has been awarded to winners.
·Through Event #30 – the nationalities of winners reads as follows:
United States – 22
United Kingdom – 2
Russian Federation – 1
Finland – 1
Australia – 1
Sweden – 1
Canada – 1
Note: Last year 19 of the 59 gold bracelet events were won by non-Americans (32 percent). In, 2007, the number was 15 of 55 (29 percent). In 2006, the number was 5 of 45 (11 percent).
· Event #30 winner J.C. Tran is to be classified as a professional player. He has played professionally for several years. Accordingly, the "Pro-Am" gold bracelet scoreboard (excluding Event #1 – Casino Employees) currently reads:
Professionals -- 19 wins
Thang Luu, Steven Sung, Jason Mercier, Phil Ivey-1, Rami Boukai, Anthony Harb, Ville Wahlbeck, Keven Stammen, Brock Parker-1, Jeffrey Lisandro, Daniel Alaei, Brock Parker-2, John-Paul Kelly, Jeff Carris, Nick Schulman, Phil Ivey-2, Pete Vilandos, Tomas Alenius, Roland de Wolfe, J.C. Tran
Amateurs -- 5 wins
Freddie Ellis, Ken Aldridge, Travis Johnson, Zac Fellows, Michael Eise
Semi-Pros -- 4 wins
Vitaly Lunkin, Brian Lemke, Lisa Hamilton, Leo Wolpert
· Nine of the 30 winners this year (30 percent) were previous gold bracelet winners. There have been two double winners in 2009 -- Brock Parker and Phil Ivey.